UW News
---
June 29, 2020
A new University of Washington study of people experiencing homelessness in King County finds that unpaid medical bills were their primary source of debt, and that debt extended their period of homelessness by an average of two years.
---
June 22, 2020
The UW School of Social Work's Project Connect supports 15 different research and outreach endeavors, all oriented specifically around community needs during COVID-19.
---
June 16, 2020
The COVID-19 Clearinghouse at UW Law is just one of the ways that faculty and staff across the university have revamped summer research internships and worked with outside partners and employers to involve students in a remote working environment, even for jobs that would normally be out in the field.
---
June 8, 2020
New research from a decades-long study by the University of Washington and the University of Colorado shows long-term benefits from a program to prevent problem behaviors in children.
---
May 27, 2020
Meat processing plants face challenges in keeping workers safe during the pandemic. Carrie Freshour, a UW assistant professor of geography, and Marissa Baker, an assistant professor in the UW Department of Environmental and Occupational Health Sciences and an expert on worker safety related to infectious diseases, provides comments on what the industry can do to protect workers.
---
May 14, 2020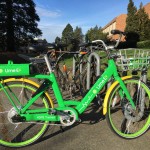 Prior to the COVID-19 pandemic, in cities where bike-share systems have been introduced, bike commuting increased by 20%, according to a new UW study.
---
May 7, 2020
What does it feel like to be a mother on this Mother's Day? And how can we make the day seem special when life feels so uncertain and stressful? University of Washington psychology professor Liliana Lengua offers some perspective.
---
New research led by the University of Washington finds that sleep problems in a baby's first 12 months may not only precede an autism diagnosis, but also may be associated with altered growth trajectory in a key part of the brain, the hippocampus.
---
May 6, 2020
As the push to relax social and economic restrictions for combating the pandemic gain traction, we need to understand personal motives behind what many experts consider a dangerous rush to "reopen" and how to protect workers most at risk when communities do "go back to work." Three UW experts weigh in.
---
A new international study led by the University of Washington aims to gauge the perception of ethical situations as the COVID-19 pandemic evolves around the world.
---
April 28, 2020
During the COVID-19 pandemic, the University of Washington community – students, staff, donors and alumni – is rethinking traditional programs and services to try to meet the needs that arise. Emergency aid grants and a newly-online food pantry are coming to the rescue.
---
April 27, 2020
New research by the University of Washington and the University of Exeter in the U.K., examined the value that college students — of many races — place on ethnic cultural centers.
---
April 10, 2020
With most states now under stay-at-home orders, UW researchers have launched a national study to test whether a motivational, mental health tip each day changes participants' behavior during social distancing, and improves their mental and relational health.
---
March 31, 2020
New research by the University of Washington examines factors that contributed to decision-making by governors in all 50 states to combat the novel coronavirus.
---
March 27, 2020
With the university's spring quarter beginning Monday, UW staff and student workers in the Student Technology Loan Program spent the week-long spring break gathering, checking and cleaning some 300 laptops and tablets for distribution – and, for the first time, shipping many of those devices to the homes of UW students across the country.
---
March 17, 2020
This wasn't how LaShawnDa Pittman expected to give her final exam review: At her kitchen table, laptop open, coffee cup at the ready, her 12-year-old Chihuahua named Espresso by her side. But as the first week of the University of Washington's shift to online classes drew to a close, Pittman, an assistant professor of American…
---
March 12, 2020
It's important to maintain human connection, even during a time of social distancing, UW psychology researchers say.
---
March 10, 2020
KUOW's That's Debatable on Wednesday will feature two University of Washington faculty members: Dan Schwartz, professor of chemical engineering and director of the Clean Energy Institute, and Kate Simonen, upcoming chair of the Department of Architecture and director of the Carbon Leadership Forum.
---
March 2, 2020
New research from the University of Washington finds that a natural aptitude for learning languages is a stronger predictor of learning to program than basic math knowledge.
---
February 20, 2020
A new, University of Washington-developed data visualization tool draws on bill information made available by the Washington State Legislature to enable students, journalists and voters to visually explore the lawmaking process.
---
February 10, 2020
A new University of Washington study of eviction filings from each of Washington's 39 counties illustrates where, and to whom, evictions hit hardest.
---
February 7, 2020
University of Washington geographer Bo Zhao has created an interactive map, updated every few hours, of coronavirus cases around the world.
---
February 4, 2020
New research by the University of Washington's Institute for Learning & Brain Sciences finds that altruism may begin in infancy. In a study of nearly 100 19-month-olds, researchers found that children, even when hungry, gave a tasty snack to a stranger in need.
---
February 3, 2020
A study by the Institute for Learning & Brain Sciences at the University of Washington finds the value of using "parentese," an exaggerated speaking style that conveys total engagement with a child.
---
January 23, 2020
A study by the University of Washington's Institute for Learning & Brain Sciences (I-LABS) shows that a bilingual language program for babies can reach more families, and instructors, through online training for teachers.
---
January 22, 2020
The University of Washington led a clinical trial involving more than 600 children in Kenya and Tanzania, in which community members were trained to deliver mental health treatment, showed improvement in participants' trauma-related symptoms up to a year after receiving therapy.
---
January 21, 2020
On a recent Saturday evening, a dozen women gathered around a table at a community room in the White Center neighborhood of Seattle, settling in with snacks and conversation. The evening's program would be more education than entertainment, an opportunity to discuss topics so sensitive that, without the group of women assembled that night, might…
---
November 26, 2019
A new University of Washington study finds that families with a father in prison tend to live in neighborhoods with higher poverty.
---
November 18, 2019
New findings from the largest study of socially-transitioned transgender children in the world, conducted by researchers at the University of Washington, show that gender identity and gender-typed preferences manifest similarly in both cis- and transgender children, even those who recently transitioned.
---
October 28, 2019
A new study by the University of Washington's Social Development Research Group shows how a parent's use of marijuana, past or present, can influence their child's substance use and well-being.
---
October 15, 2019
A University of Washington-led study finds that Deaf infants exposed to American Sign Language are especially tuned to a parent's eye gaze, itself a social connection between parent and child that is linked to early learning.
---
October 8, 2019
A new study by a research team that included the University of Washington offers new evidence to support what scientists have long suspected about dogs: that some dog behaviors that help characterize breeds — a drive to chase, for example, or aggression toward strangers — are associated with distinct genetic differences among them.
---
October 4, 2019
A report released Oct. 4, the Washington State Equity and Diversity Project, is the first study of its kind to examine the health of LGBTQ people of all ages throughout the state.
---
September 26, 2019
The share of Washingtonians living below the federal poverty threshold declined from 11.0 to 10.3 percent between 2017 and 2018, according to new Census data released Thursday. 
---
September 19, 2019
The UW Center for American Indian and Indigenous Studies has received a $1.8 million grant from the Andrew W. Mellon Foundation, which will fund four years of work at the UW around Native student support, academics, research and cultural programs.
---
September 5, 2019
A new study from the University of Washington finds that, based on brain activity, people who live in communities where multiple languages are spoken can identify words in yet another language better than those who live in a monolingual environment.
---
August 29, 2019
A new map synthesized from more than 250 archaeologists worldwide, including from the University of Washington, argues that the human imprint on our planet's soil goes back much earlier than the nuclear age.
---
August 8, 2019
Firearm retailers throughout Washington are willing to learn about suicide prevention but are reluctant to talk to customers about mental health issues, according to a new study by Forefront Suicide Prevention at the University of Washington.
---
July 25, 2019
University of Washington researchers have found that that "good life" in adulthood can start in grade school, by teaching parents and teachers to build stronger bonds with their children, and to help children form greater attachments to family and school.
---
June 27, 2019
For Asian Americans who are gay or lesbian, their sexual orientation may make them seem more "American" than those who are presumed straight. A new University of Washington study, the latest in research to examine stereotypes, identity and ideas about who is "American," focuses on how sexual orientation and race come together to influence others' perceptions.
---
Next page