UW News
---
December 18, 2018
New analysis shows that odd winds, not warming, caused the unusual patch of open water north of Greenland last February.
---
December 14, 2018
UW glaciologist Ben Smith shared a first look at the NASA ICESat-2 satellite's view of Greenland and Antarctic glaciers at the American Geophysical Union's annual meeting in Washington, D.C.
---
December 10, 2018
A new species of whale discovered in 33-million-year-old Oregon rock has been named for Elizabeth Nesbitt, a curator at the Burke Museum and faculty member in the UW's Department of Earth and Space Sciences.
---
December 6, 2018
New research from the University of Washington and Stanford University combines models of ocean conditions and animal metabolism with published lab data and paleoceanographic records to show that the Permian mass extinction in the oceans was caused by global warming that left animals unable to breathe. As temperatures rose and the metabolism of marine animals sped up, the warmer waters could not hold enough oxygen for them to survive.
---
November 29, 2018
University of Washington researchers contributed to the Fourth National Climate Assessment that considers impacts, risks and adaptation across the United States.
---
November 26, 2018
A new, free tool with temperature and precipitation records across Washington, Oregon, Idaho and western Montana as far back as 1881 lets users play around to discover significant trends. It also includes historical snow records for Washington state.
---
November 14, 2018
The first assessment of polar bears that live in the biologically rich Chukchi Sea region that spans the U.S. and Russia, finds that the population is healthy and not yet suffering from declining sea ice.
---
November 8, 2018
The first study of common ragweed's future U.S. distribution finds the top allergen will expand its range northward as the climate warms, reaching new parts of upstate New York, Vermont, New Hampshire and Maine, while retreating from current hot spots.
---
November 2, 2018
UW oceanographer Jody Deming is a leader of a new, interdisciplinary effort that addresses the theme of "ocean memory."
---
October 25, 2018
Provost Mark Richards answers questions surrounding the topic of his welcome lecture, Tuesday afternoon in the HUB Lyceum.
---
October 17, 2018
UW atmospheric scientists leave next week for a six-week field campaign in South America to study the most intense storms on the planet.
---
October 12, 2018
In a new UW-authored book, a cartoon robot takes young readers on a School of Oceanography voyage to explore the deep ocean.
---
October 11, 2018
Kristie Ebi, a UW professor of global health, was a lead author on the Intergovernmental Panel on Climate Change's "Special Report on Global Warming of 1.5 C" that compares the effects of 1.5 versus 2 degrees Celsius of global warming.
---
October 4, 2018
Harold Tobin, who joins the UW this fall as a faculty member in Earth and space sciences and director of the regional seismic sensing network, discusses earthquake early warning, seismic risks and the Pacific Northwest's "big one."
---
September 19, 2018
The National Science Foundation will support a state-of-the-art marine facility that continues delivering data and new insight to the ocean science community, policymakers and the public worldwide.
---
September 17, 2018
Rapid deoxygenation in the Gulf of St. Lawrence is caused by shifts in two of the ocean's most powerful currents: the Gulf Stream and the Labrador Current. A detailed model shows that large-scale climate change is causing oxygen to drop in the deeper parts of this biologically rich waterway.
---
September 15, 2018
The assistant state climatologist, Karin Bumbaco, looks back on an unusually hot and dry summer — the third-hottest summer that Washington state has experienced since 1895.
---
September 10, 2018
Two UW polar scientists were among a dozen experts who advised NASA on its upcoming ICESat-2 mission to monitor the 3D surface of the Earth. The mission is scheduled to launch Sept. 15 from California.
---
September 6, 2018
Evidence left by a volcano under the ice sheet suggests that the observed bulging of ice in West Antarctica is a short-term feature that may not affect the glacier's motion over the long term.
---
August 20, 2018
Meticulously tracking of 423 species before, during and after the worst droughts to hit California in more than a thousand years shows surprising patterns. Key prey species plummeted in the third year of the drought, and carnivores were hardest hit in later years.
---
August 14, 2018
A new study led by the University of Washington uses data gathered by floating drones in the Southern Ocean over past winters to learn how much carbon dioxide is transferred by the surrounding seas. Results show that in winter the open water nearest the sea ice surrounding Antarctica releases significantly more carbon dioxide than previously believed.
---
July 30, 2018
A University of Washington report provides the best projections yet for sea-level rise due to climate change at 171 sites along Washington's coasts.
---
July 23, 2018
Observations over the eastern U.S. show why emissions reductions haven't achieved the same results in winter as they have in summer.
---
July 18, 2018
New research suggests the Atlantic Ocean is transitioning back to its slower phase, which means average global air temperatures will go back to rising more quickly.
---
July 2, 2018
Regions of Arctic water are becoming ice-free in late summer and early fall. A new study is the first to consider potential impacts on the marine mammals that use this region and identify which populations will be the most vulnerable to ships.
---
June 21, 2018
More than 100 scientists and crew from more than 20 U.S. research institutions, including the UW, will depart in August for a month-long expedition to study how the ocean absorbs carbon from the atmosphere.
---
June 18, 2018
Tracking of two great white sharks reveals for the first time that in the open ocean they spend more time deep inside warm-water eddies.
---
June 11, 2018
A study of global maize production in 2100 shows dramatic increases in the variability of corn yields from one year to the next under climate change, making simultaneous low yields across multiple high-producing regions more likely, which could lead to price hikes and global shortages.
---
June 4, 2018
Twenty-five polar bear hunters in East Greenland were interviewed before the first formal assessment of this subpopulation, one of 19 subpopulations of polar bears in a changing Arctic.
---
May 23, 2018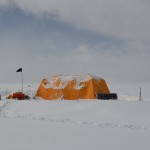 The oldest ice core so far provides 800,000 years of our planet's climate history. A UW field survey in Antarctica has pinpointed a location where an entire million years of undisturbed ice might be preserved intact.
---
May 15, 2018
If an entire forest dies, new research shows, it has ricocheting effects in the atmosphere that can affect vegetation on the other side of the country.
---
May 10, 2018
The UW School of Oceanography has a new vessel, named after marine biologist, author and conservationist Rachel Carson. It will explore Puget Sound and nearby coasts.
---
May 8, 2018
UW glaciologist Knut Christianson is part of a massive collaboration that will collect on-the-ground data about a key Antarctic glacier that shows signs it could be collapsing into the sea.
---
May 3, 2018
In a study published online May 3 in the journal Science, a University of Washington-led team announced that it has discovered a method to encode information using magnets that are just a few layers of atoms in thickness. This breakthrough may revolutionize both cloud computing technologies and consumer electronics by enabling data storage at a greater density and improved energy efficiency.
---
April 27, 2018
Oceanographer Cecilia Peralta Ferriz is spending the academic year in Tromsø, Norway, to collaborate with colleagues who study flow out of the Arctic Ocean.
---
April 25, 2018
About twice each decade, the United Nations' Intergovernmental Panel on Climate Change, or IPCC, looks at what is known about the science of climate change, the extent to which human activities are changing the Earth's climate, and what risks these changes pose to human and natural systems. Organized into three working groups, each assessment is…
---
April 18, 2018
By using a keyboard to provide tactile feedback along with with a screen reader, blind and low-vision users were three times more successful at navigating complex modern webpages, similar to a typical Airbnb booking site.
---
April 3, 2018
Bowhead whales are constantly changing their tune, unlike the only other whale species that sings, the humpback.
---
April 2, 2018
Earth has had moderate temperatures throughout its early history, and neutral seawater acidity. This means other rocky planets could likely also maintain this equilibrium and allow life to evolve.
---
March 6, 2018
High in Mongolia's Gobi Desert, the climate is so dry and cold that glaciers shrank during the last ice age. Dating of rock deposits shows how glaciers in this less-studied region can behave very differently as the climate shifts.
---
Previous page
Next page