UW News
---
January 16, 2020
Leaders are updating the laws for international waters that apply to most of the world's ocean environment. This provides a unique opportunity, argues a UW Bothell marine scientist, to anticipate new techniques that allow protected zones to shift as species move under climate change.
---
December 30, 2019
Life as we know it requires phosphorus, which is scarce. So, how did a lifeless environment on the early Earth supply this key ingredient? A new UW study, published Dec. 30 in the Proceedings of the National Academy of Sciences, finds an answer to this problem in certain types of carbonate-rich lakes.
---
December 12, 2019
An Antarctic field campaign last winter led by the U.S. and Australia has successfully extracted some of the largest samples of air dating from the 1870s until today. Researchers will use the samples to look for changes in the molecules that scrub the atmosphere of methane and other gases.
---
December 10, 2019
To better understand large, disruptive snowstorms, a University of Washington atmospheric scientist will lead a NASA field campaign this winter to fly through major snowstorms along the East Coast. The multi-institutional team will observe snow as it forms in clouds to help with satellite monitoring of snowfall and ultimately improve forecasts.
---
November 5, 2019
A University of Washington team is leaving to study how fall storms, dwindling sea ice and vulnerable coastlines might combine in a changing Arctic.
---
November 4, 2019
UW marine scientists are using high-tech tags to record the movements of swordfish — big, deep-water, migratory, open-ocean fish that are poorly studied — and get a window into the ocean depths they inhabit.
---
October 31, 2019
After years of preparation, a tiny satellite built by UW students is scheduled to launch early Saturday, Nov. 2, from a NASA flight facility in Virginia. The launch will be broadcast live on NASA TV.
---
October 23, 2019
This week a UW team is releasing a robotic surfboard to explore the surface ocean around Antarctica.
---
October 2, 2019
The University of Washington's Abigail Swann is honored by Science News on its list of 10 promising early- and mid-career scientists.
---
September 20, 2019
Two UW researchers — Bonnie Light, a principal physicist at the UW's Applied Physics Laboratory and an affiliate associate professor of atmospheric sciences, and Madison Smith, a recent UW graduate who is now doing her postdoctoral research at the UW — will join for the fifth of the six two-month legs, in summer 2020.
---
September 19, 2019
A new model for plasma flow within the sun provides novel explanations for sunspots, the 11-year sunspot cycle, solar magnetic reversals and other previously unexplained solar phenomena.
---
September 9, 2019
A study of superbolts, which release a thousand times more electrical energy in the low-frequency range than regular lightning bolts, finds they occur at very different times and places than regular lightning. Superbolts tend to strike over particular parts of the oceans, while regular lightning strikes over land.
---
September 4, 2019
UW oceanographers used lab experiments and seawater samples to learn how photosynthetic microbes and ocean bacteria use sulfur, a plentiful marine nutrient.
---
August 8, 2019
A new study provides a 110-year record of the total volume of Arctic sea ice, using early U.S. ships' voyages to verify the earlier part of the record. The longer record puts the recent loss into perspective.
---
August 6, 2019
Analyzing the full life cycle of long-term droughts and how they relate to El Niño and La Niña conditions in the Pacific Ocean could eventually lead to better prediction of damaging, multiyear droughts in the Southwestern U.S.
---
July 23, 2019
After more than 20 years, the UW's Coastal Observation and Seabird Survey Team, or COASST, is itself the subject of scientific study. Social scientists are studying the program's success to extract lessons for all citizen science efforts.
---
July 17, 2019
This Friday, teams of 5th- through 12th-grade students from across Washington state will complete a challenge in Kane Hall to mimic the 1969 Apollo moon landing, using drones and Lego robots.
---
July 11, 2019
A UW team has discovered thriving communities of bacteria in Alaskan "cryopegs," trapped layers of sediment with water so salty that it remains liquid at below-freezing temperatures. The setting may be similar to environments on Mars, Saturn's moon Titan, or other bodies farther from the sun.
---
June 10, 2019
Why did a giant hole appear in the sea ice off Antarctica in 2016 and 2017, after decades of more typical sea ice cover? Years of Southern Ocean data have explained the phenomenon, helping oceanographers to better predict these features and study their role in global ocean cycles.
---
May 30, 2019
A series of seismic experiments will take place this summer in the Seattle area. The researchers are looking for volunteer sites throughout the region.
---
May 1, 2019
In oxygen-poor parts of the ocean, some microorganisms survive by breathing arsenic. This holdover from the ancient Earth was not thought to still exist in the open ocean.
---
April 25, 2019
A UW team will visit Alaska's North Slope Borough the week of April 28 in preparation for a two-year study of how waves, ice loss and warming are affecting the low-lying region.
---
April 15, 2019
Over many years, a University of Washington team has shown how logging on the Teanaway River in central Washington caused dramatic changes to the river channel.
---
April 12, 2019
Over 17 years, the program has evolved into a campuswide, interdisciplinary, student-driven program on climate change research, communication and action. A recent publication looks at the program history and current mission.
---
April 4, 2019
A University of Washington team placed first in a national weather forecasting contest that began in September. A UW graduate student also developed a model that for the first time beat out all human competitors.
---
March 26, 2019
A University of Washington-led study provides a fuller picture of the relationship between nitrogen oxides — the tailpipe-generated particles at the center of the Volkswagen scandal, also known as NOx, — and PM2.5, the microscopic particles that can lodge in lungs.
---
March 21, 2019
The first survey of methane vent sites off Washington's coast finds 1,778 bubble columns, with most located along a north-south band that is in line with a geologic fault.
---
March 11, 2019
When coyote parents are habituated to humans, their offspring are more habituated, too — potentially leading to negative interactions between coyotes and humans.
---
February 28, 2019
Exhibits and events happening Friday through Sunday showcase the latest in polar science, much of it from the University of Washington.
---
February 12, 2019
A study led by the University of Washington pinpoints which riverside routes in Washington, Oregon, Idaho and western Montana will be the most important for animals trying to navigate a changing climate.
---
February 8, 2019
Nick Bond, Washington's state climatologist, comments on the unusual weather in Western Washington.
---
A new University of Washington computer model can predict underwater conditions in Puget Sound and off the coast of Washington three days into the future.
---
January 30, 2019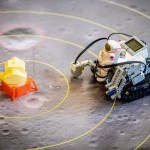 A UW-based group is launching a national student challenge to mark the 50th anniversary of the historic Apollo moon landing.
---
January 23, 2019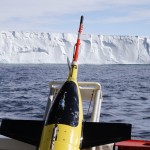 A team of ocean robots developed at the UW is the first group of self-guided ocean instruments to travel under an ice sheet and come back to report long-term observations.
---
January 16, 2019
A new study has found that since the early 1980s, a pattern of ocean temperatures and atmospheric circulation has offset most of the impact of warming on the West's mountain snowpack.
---
January 14, 2019
The UW is part of an international program that has revolutionized ocean measurements. This fall, the program made its 2 millionth measurement, reporting temperature and salinity in the top mile of the world's oceans.
---
December 18, 2018
New analysis shows that odd winds, not warming, caused the unusual patch of open water north of Greenland last February.
---
December 14, 2018
UW glaciologist Ben Smith shared a first look at the NASA ICESat-2 satellite's view of Greenland and Antarctic glaciers at the American Geophysical Union's annual meeting in Washington, D.C.
---
December 10, 2018
A new species of whale discovered in 33-million-year-old Oregon rock has been named for Elizabeth Nesbitt, a curator at the Burke Museum and faculty member in the UW's Department of Earth and Space Sciences.
---
December 6, 2018
New research from the University of Washington and Stanford University combines models of ocean conditions and animal metabolism with published lab data and paleoceanographic records to show that the Permian mass extinction in the oceans was caused by global warming that left animals unable to breathe. As temperatures rose and the metabolism of marine animals sped up, the warmer waters could not hold enough oxygen for them to survive.
---
Next page