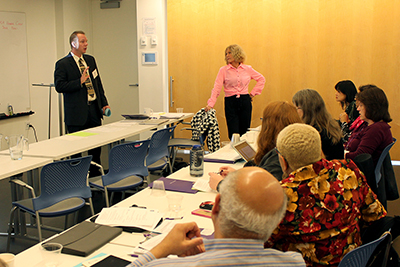 Accommodations and Universal Design
Presenter: Sheryl Burgstahler
Ability exists on a continuum, where all individuals are more or less able to see, hear, walk, read print, communicate verbally, tune out distractions, learn, or manage their health. In K-12 education in the United States, every child is ensured a free, appropriate education in as integrated of a setting as possible. However, in postsecondary education, students must meet whatever course or program requirements apply and are offered reasonable accommodations as needed.
Accommodations and universal design (UD) are two approaches to access for people with disabilities. Both approaches contribute to the success of students with disabilities. Accommodations are a reactive process, providing access for a specific student and arise from a medical model of disability. Students might be provided with extra time on tests, books in alternate formats, or sign language interpreters.
In contrast, UD is a proactive process rooted in a social justice approach to disability and is beneficial to all students. UD is designing products and environments to be usable by all people, to the greatest extent possible, without the need for adaptation or specialized design. A UD approach can benefit people who face challenges related to socioeconomic status, race, culture, gender, age, language, or ability. Applying UD to information technology would include building in accessibility features and also ensuring compatibility with assistive technology. In other words, a universally designed website would have text alternatives for graphics, present context via text and visuals, include captions and transcripts for all video and audio content, ensure that all content and navigation can be reached with the keyboard alone, and spell out acronyms.
UD of instruction is an attitude that values diversity, equity, and inclusion. It can be implemented incrementally, focuses on benefits to all students, promotes good teaching practice, does not lower academic standards, and minimizes the need for accommodations. UD can be applied to all aspects of instruction, including class climate, interactions, physical environments and products, delivery methods, information resources and technology, feedback, and assessment. Examples include the following:
Arranging seating so that everyone has a clear line of sight.
Avoiding stigmatizing a student by drawing undue attention to a difference.
Using large, bold fonts with high contrast on uncluttered overhead displays and speak aloud all content.
Providing multiple ways to gain and demonstrate knowledge.
Avoiding unnecessary jargon; defining terms.
Providing scaffolding tools (e.g., outlines).
Providing materials in accessible formats.
Providing corrective opportunities.
Testing in the same manner in which you teach.
Minimizing time constraints as appropriate.
Educators who effectively apply UD and accommodations level the playing field for students with disabilities and make instruction welcoming to, accessible to, and usable by all students. They minimize, but do not eliminate, the need for accommodations.
More information about UD can be found in DO-IT's Center for Universal Design in Education.
---
UW MakerSpace: A Case Study of Accessible Engineering
Presenter: Kat Steele
A makerspace is designed to encourage innovation and allow people to tinker and create, making available a variety of tools and equipment, including 3D printers, laser cutters, hand tools, and sewing machines. Many universities, libraries, and other organizations are setting up their own makerspaces, making this an ideal time to encourage universities to ensure these spaces are accessible to individuals with disabilities. In July 2015, a group of students with a variety of disabilities visited the University of Washington's CoMotion Makerspace to take part in a prototyping challenge and discuss accessibility challenges in the space. Through their visit, the students provided feedback that was used to refine DO-IT's online publication, Making a Makerspace? Guidelines for Accessibility and Universal Design. This presentation shared guidelines, questions, and best practices to consider in creating, retrofitting, or maintaining makerspaces:
Planning and Policies: Create a culture of inclusion and universal design as early as possible.
Space: An ideal makerspace is a large, central, open space where people can brainstorm, build, and work together on their creations. Flexibility is key in the design of accessible makerspaces.
Furniture: When considering the furniture for a makerspace, choose variety. Offer different heights, armrests, and surfaces to support a diverse user base.
Tools and Equipment: The choice and placement of tools in a space can greatly facilitate accessibility. Strategies include placing tools where they can be reached from a seated position, maintaining clear aisles, and using large print and/or braille labels.
Staff, Safety, and Training: The staff and users of a makerspace can work together to create a safe and inclusive environment. Staff can be trained about providing accommodations and placing safety equipment in accessible locations. Staff can also learn to deliver materials in accessible formats.
Focus Groups and User Testing: Makers need to test and experiment with their creations. Makers should be encouraged to reach out to diverse users. Challenge makers to consider universal design in their prototyping and testing. Make universal design and accessibility a part of your culture.
More information about accessible makerspaces can be found on the AccessEngineering website.
---
CNT Promising Practices
Presenters: Eric Chudler and Scott Bellman
This presentation shared promising practices of the Center for Neurotechnology (CNT), an ERC at the University of Washington (UW) to engage people with disabilities in all aspects of the Center. Further details are available online in a publication called Promising Practices That Engage People with Disabilities in the CNT. The information was presented in five broad categories:
Recruitment and Engagement
Develop strategic partnerships, including those with disability and veteran service units, and employ joint recruitment strategies.
Recruit people with disabilities, including veterans, onto advisory boards and leadership teams.
Develop outreach activities and programs especially for students with disabilities, including veterans, and also recruit individuals with disabilities into programs for all students.
Communication
Promote disability awareness.
Highlight the achievements of people with disabilities.
Include images of people with disabilities and information on how to request accommodations in promotional materials.
Encourage faculty, staff, and student leaders to engage in disability-related conferences and training opportunities.
Share disability-related practices at conferences.
Accessibility of Facilities, Information Resources, Products, and Activities
Apply universal design and provide reasonable accommodations.
Consult with individuals with disabilities in lab/facility design.
Conduct website, document, and video accessibility reviews and remediate.
An Inclusive Climate
Consider disability as a diversity issue.
Provide mentoring opportunities for individuals with disabilities.
Address disability-related issues in grant proposals to enhance and expand ERC initiatives.
Data Collection and Evaluation
Collect disability status along with other demographic information in application and evaluation forms.
Analyze data to determine the effectiveness of activities for people with disabilities.
---
Disability Resources for Students
Presenter: Bree Callahan
This presentation provided information about the rights and responsibilities of students with disabilities on UW campuses and answered basic questions about academic accommodations, educating faculty, and various types of disabilities experienced by students.
The collaboration between the CNT and the UW Disability Resources for Students (DRS) office has resulted in multiple students with disabilities engaging in CNT activities. Many of the specific activities can be replicated by other ERCs willing to partner with disability services offices, such as
Highlighting articles about the ERC and other engineering opportunities in a newsletter for students with disabilities (like the Opportunities! News created for the UW)
Sending out email announcements about internships and events
Providing expertise for students with disabilities needing accommodations in labs and activities
Providing resources to faculty
---
Web Accessibility
Presenter: Terrill Thompson
When we're creating digital content such as web pages or online documents, we may envision our typical user as an able-bodied person using a desktop computer. In reality, users utilize a wide variety of technologies to access the web including assistive technologies, mobile devices, and more; everyone has different levels of ability when it comes to seeing, hearing, or using a mouse or keyboard. Since the World Wide Web was invented, HTML has included alt tags and other accessibility features. WCAG 2.0 (Web Content Accessibility Guidelines, second version) shows how web content can be made accessible to all users. WCAG 2.0 follows four main principles; information should be perceivable, operable, understandable, and robust. Each of these principles is defined by more specific guidelines, and those are further defined by specific success criteria, which are assigned Level A, AA, or AAA, with Level A success criteria including the most critical issues for accessibility. Level A success criteria are fairly easy to meet. In resolution agreements and legal settlements, the U.S. Department of Justice and the Department of Education Office of Civil Rights have identified WCAG 2.0 Level AA as a reasonable target to ensure websites are accessible.
A push for accessible tools and features will help make all web content more accessible. Using accessible themes in WordPress and Drupal is an easy way to spread accessibility across campus and utilize necessary accessibility features such as keyboard accessible drop-down menus and proper headings. ARIA (Accessible Rich Internet Applications) can be used to analyze accessibility, and it communicates the interface elements to users and designers. Canvas and similar learning management systems need to be made accessible and used accessibly; faculty need to learn about headings and alt text and the right questions to ask about accessibility.
During the presentation, three specific ERC websites were discussed in terms of their accessibility: the Center for Bio-mediated and Bio-inspired Geotechnics, the Quantum Energy and Sustainable Solar Technologies ERC, and the CNT. Information from when they consulted with AccessERC was also shared.
For more information about web accessibility, check out these resources:
---
Access Technology and Accessible IT
Presenters: Hadi Rangin and Doug Hayman
Hadi Rangin demonstrated how a person with a visual impairment accesses information online, revealing many common barriers that are the result of inaccessible web design. Multiple ERC websites were visited, to provide CBI participants with examples directly relevant to their work. Doug Hayman shared information about the various types of access technology that individuals with disabilities use, highlighted in two publications:
This presentation culminated in a tour of the UW's Access Technology Center (ATC), which serves users with disabilities, allowing full use of UW campus computing resources. ATC hardware and software provides braille, alternate document formatting and magnification for blind/low-vision users, keyboard/mouse alternatives, speech-input software, and more. ATC staff provide accessibility consultations and instructs users in accessible hardware and software basics. More information can be found at www.itconnect.uw.edu/learn/accessible/atc/.
---
Disability Identity: Understanding Disability Culture
Presenter: Kayla Brown
This presentation focused on the following topics:
Representation of disabilities in mainstream media and social media
The disability rights movement and signing of the Americans with Disabilities Act
Prevalent stereotypes about disabilities
Access to education and the historical oppression of individuals with disabilities
Grass roots activism and the disability community
Ableism and victim blaming
Various models of disability (e.g., social model, medical model, rehabilitation model).
In our society, there are many barriers that prevent people with disabilities from fully participating or feeling included. Often people do not consider accessibility issues at all. Attitudes and stereotypes influence every aspect of the lives of people with disabilities, including social inclusion, educational opportunities, healthcare, self-esteem, and so much more.
How society views disability and how that contributes to the system of oppression impacting people with disabilities is very important. There is a long history to the disability rights movement that continues to push back on these attitudes and create a more welcoming and accessible world.Participants in this presentatoin viewed a video from the 1990 "Capital Crawl" and a Ted Talk called "I am not your inspiration" by Stella Young, which can be viewed at www.ted.com/talks/stella_young_i_m_not_your_inspiration_thank_you_very_m....
---
AccessERC Team Building Session
Presenter: Scott Bellman
In this engaging interactive session, participants envisioned themselves as a cohesive team that works together, within the AccessERC Community of Practice, to improve the engagement of people with disabilities broadly within NSF's ERC program. Participants identified strengths and characteristics among specific team members that can be leveraged to achieve AccessERC goals. Specifically, they identified team members' abilities to
bring caring to an issue that helps get things done
talk to engineering faculty from a perspective that incorporates engineering culture
design video presentations
make connections across institutions and into the community
write publications and web content
interact with parents and families of young STEM students
conduct interactive sessions where people feel safe
transition from brainstorming to action planning to implementation of ideas
leverage personal experiences from involvement in an underrepresented group
implement strategies to make online learning accessible
analyze data and evaluate outcomes
explain complex technical details
solve complex problems
engage with students and identify research opportunities
write grant proposals
analyze social-group dynamics and bring about change
engage in public relations and marketing
---
Universal Design of E-Learning: What Faculty Need to Know
Presenter: Sheryl Burgstahler
In this presentation, we focused on what staff and faculty need to do to make their classes welcoming to and accessible by students with disabilities. These professionals typically do not develop their own learning management system (LMS), website, or other technology tools, but rather use what is already out there. However, educators do have the choice to create accessible instructional materials and teaching strategies. Educators should consider if everyone can gain knowledge, if everyone can interact with others, and how everyone can demonstrate their knowledge.
Faculty often get overwhelmed by universal design and accessibility; they see it as just another thing they need to make time for in their busy schedules. Applying specific tools and strategies to make content accessible from the beginning is easier than retrofitting classes after they've already begin. It is important for faculty to understand what makes a course accessible; what are some strategies and resources for accessible design; what legal mandates are in place; and what creates a welcoming, accessible, and usable environment for all potential students.
Accessible means a class or product is usable to the same level by all students. While accommodations are important, we can minimize retrofitting for specific students by implementing universal design in planning the class. In the first online class taught at the UW—one I taught in 1995 on adaptive technology for people with disabilities—my co-instructor and I made it as accessible as possible to showcase that it was possible for any student to engage in an online course. I still take the same basic approach in an online class I currently teach about accessibility and compliance of online education.
The first step towards creating an accessible syllabus with structure and key information, including a statement on accessibility and disability-related accommodations. Then apply DO-IT's 20 Tips for Teaching an Accessible Online Course, found at www.uw.edu/doit/20-tips-teaching-accessible-online-course. The list includes considerations regarding both IT (e.g., providing alternative text for images, designing accessible PDF, captioning videos) and pedagogy (e.g., providing multiple ways to gain and demonstration knowledge). Further guidance and resources can be found at DO-IT's AccessDL website at www.uw.edu/doit/programs/accessdl.
---
AccessERC Products, Activities, and Initiatives
Presenters: Sheryl Burgstahler and Scott Bellman
AccessERC is funded by the National Science Foundation as a supplement to the CNT. The ultimate impact of AccessERC will be to increase the successful participation of people with disabilities in STEM and improve these fields with their perspectives and expertise.
AccessERC will host capacity building institutes for ERC leaders, maintain a Community of Practice comprised of ERC representatives, host regular AccessERC conference calls, provide consultation to ERCs, offer seed grants for individual activities at ERCs that support project goals and objectives, develop an online Knowledge Base and project website, create case studies of individuals with disabilities who have engaged in ERCs, produce a video promoting accessible ERCs, and develop products and publications related to AccessERC goals. For more information, visit the AccessERC website at www.uw.edu/doit/programs/accesserc.
---
Equal Access: Universal Design of an Academic Department or ERC
Presenter: Sheryl Burgstahler
ERCs integrate engineering research and education with technological innovation to transform national prosperity, health, and security. As increasing numbers of people with disabilities participate in academic opportunities and careers, the accessibility of courses, labs, electronic resources, events, internships, and other ERC activities increases in importance. Our goal is to provide equal access to everyone who qualifies to use ERC resources and participate in sponsored activities.
AccessERC has created a publication titled Equal Access: Universal Design of Your Engineering Research Center, which contains a checklist for creating a welcoming and accessible ERC. This checklist covers policies and recruitment, information technology, facilities and activities, and various communication methods. To download this checklist, visit www.uw.edu/doit/equal-access-universal-design-your-engineering-research-....
---
AccessERC Action Planning Worksheet
Presenter: Scott Bellman
During this session, CBI participants created action plans, with a total of over 100 action items, identifying activities they would like to implement at their ERC. Many ideas for action planning were derived from CBI presentations and the publications Promising Practices That Engage People with Disabilities in the CNT and Equal Access: Universal Design of Your Engineering Research Center. In collaboration with AccessERC staff, participants also identified over 50 organizations at their ERC institutions that serve or otherwise engage individuals with disabilities that have the potential to promote or expand ERC offerings.