UW News
School of Dentistry
---
July 16, 2018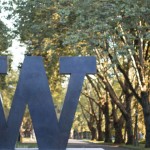 Dr. Gary Chiodo of Oregon Health & Science University has been appointed interim dean of the University of Washington School of Dentistry, effective Aug. 1, UW President Ana Mari Cauce and Provost Mark Richards announced Monday.
---
April 12, 2018
Researchers at the University of Washington have designed a convenient and natural product that uses proteins to rebuild tooth enamel and treat dental cavities.
---
July 14, 2017
The University of Washington's School of Dentistry and School of Public Health are ranked No. 3 in the world on the Global Ranking of Academic Subjects list for 2017. The ranking, released in June, was conducted by researchers at the Center for World-Class Universities of Shanghai Jiao Tong University.
---
October 3, 2016
In a paper published Sept. 22 in Scientific Reports, engineers at the University of Washington unveiled peptides that could help bridge the gap where artificial meets biological — harnessing biological rules to exchange information between the biochemistry of our bodies and the chemistry of our devices.
---
January 21, 2014
Titanium-based materials can inhibit bacterial growth when bound to metal ions. If proven beneficial in clinical trials, certain titanates could be applied after a dental procedure to prevent infection or decay.
---
August 16, 2013
The winning smiles of the UW Huskies will be protected on the football field with customized mouth guards from UW Pediatric Dentistry.
---
June 26, 2013
Thomas B. Dodson of the Harvard School of Dental Medicine will become chair the UW Department of Oral and Maxillofacial Surgery Sept. 1.
---