UW News
Kate Starbird
---
March 18, 2019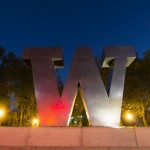 The UW Information School is taking a leading role in helping people better navigate this era of increasing online fakery and falsehood. On March 19, the school will welcome 200-some Seattle-area high school students for "MisInfo Day," a daylong workshop on how to navigate the misinformation landscape, from Jevin West and Carl Bergstrom, the faculty duo behind "Calling BS in the Age of Big Data."
---
March 8, 2018
The UW Jackson School of International Studies presents "Trump in the World: International Implications of the Trump presidency," a series of public lectures and discussions Tuesday afternoons through spring quarter.
---
April 4, 2016
In the maelstrom of information, opinion and conjecture that is Twitter, the voice of truth and reason does occasionally prevail, according to a new study from UW researchers. Tweets from "official accounts" — the government agencies, emergency responders, media or companies at the center of a fast-moving story — can slow the spread of rumors on Twitter and correct misinformation that's taken on a life of its own.
---
March 17, 2014
University of Washington researchers have found that misinformation spread widely on Twitter after the 2013 Boston Marathon bombing despite efforts by users to correct rumors that were inaccurate.
---