UW News
---
November 13, 2018
Ralina Joseph, associate professor of communication, discusses here new book "Postracial Resistance: Black Women, Media, and the Uses of Strategic Ambiguity," published this October by New York University Press.
---
October 29, 2018
Recent notable books by UW faculty members study politics and culture in post-World War II Japan, explore regime change, nonprofit management, documents from the ancient world and more.
---
October 25, 2018
In her new book, Kathryn Rogers Merlino, UW associate professor of architecture, argues for the environmental benefit of reusing buildings rather than tearing them down and building anew.
---
October 16, 2018
Today, Britain is not known as a land of camps, but through much of the 20th century — from after World War I to the 1980s —  the country was home to dozens of refugee camps housing thousands of Belgians, Jews, Basques, Poles, Hungarians, Anglo-Egyptians, Ugandan Asians and Vietnamese. As University of Washington history professor…
---
October 8, 2018
A new book by University of Washington history professor George Behlmer seeks to improve understanding of the British colonial era by "reconsidering the conduct of islanders and the English-speaking strangers who encountered them."
---
September 24, 2018
David Shields, UW professor of English, discusses his latest book, "Nobody Hates Trump More than Trump: An Intervention."
---
September 18, 2018
Margaret O'Mara, UW professor of history, explores the impact of a December 1968 computer presentation that came to be called "the mother of all demos" in an essay and podcast from the news website The Conversation.
---
Patrick Dobel, professor emeritus of the UW Evans School of Public Policy & Governance, discusses his new book, "Public Leadership Ethics: A Management Approach."
---
September 10, 2018
Justin Marlowe, a professor in the UW's Evans School of Public Policy & Governance, has been named a member of Washington Governor Jay Inslee's Council of Economic Advisors. He will be among those advising the governor on local and state economic conditions and national developments that affect state policies.
---
August 13, 2018
Hans Scholl, professor in the UW Information School, discusses the challenges and opportunities of digital government. The website Apolitical has named him among the "Top 100 Most Influential People in digital government."
---
August 7, 2018
Hilary Wething, a doctoral student in the University of Washington's Evans School of Public Policy & Governance, has received a grant to study the effects of Seattle's law requiring paid sick leave.
---
July 9, 2018
Earth's oxygen levels rose and fell more than once hundreds of millions of years before the planetwide success of the Great Oxidation Event about 2.4 billion years ago, new research from the University of Washington shows.
---
June 27, 2018
UW Libraries Special Collections has a new exhibit called "Captured in Ink: Historical Cartoons and Caricatures." The exhibit features the editorial cartoons of Howard Fisher, who worked and drew for decades for the Oregon Journal, a Portland newspaper that folded in 1982. Many other historical caricatures are included as well in the display, which stays up until October 19.
---
June 25, 2018
Researchers with the UW-led Virtual Planetary Laboratory are central to a group of papers published by NASA researchers today in the journal Astrobiology outlining the history — and suggesting the future — of the search for life on exoplanets, or those orbiting stars other than the sun.
---
June 18, 2018
The Washington State Legislature has commissioned faculty members with the University of Washington's Evans School of Public Policy & Governance to study ticketing and loading procedures at the West Seattle ferry dock and suggest ways to improve terminal operations. Evans School professor Alison Cullen and associate professor Stephen Page will lead the study, which begins…
---
June 1, 2018
Art and design can amaze, inform, entertain, challenge or even gently baffle the viewer — and the annual thesis exhibition for Master of Fine Arts and Master of Design at the Henry Art Gallery reliably offers a little of each.
---
May 24, 2018
What makes a good artificial reef, for divers, and for marine life? University of Washington landscape architecture students have done designs for a state-funded project to replace the artificial reef at the Redondo Beach dive site. They will present and discuss their work in a public meeting May 30, in Des Moines. The landscape architecture…
---
May 14, 2018
Aspects of an otherwise Earthlike planet's tilt and orbital dynamics can severely affect its potential habitability — even triggering abrupt "snowball states" where oceans freeze and surface life is impossible, according to new research from UW astronomers.
---
It's a challenge to write a biography of a man who was functionally illiterate and whose papers were mostly destroyed, but UW lecturer Taso Lagos has achieved it with his new book, "American Zeus: The Life of Alexander Pantages, Theater Mogul."
---
May 7, 2018
Charles Johnson, UW professor emeritus of English, has released his fourth book of short stories, "Night Hawks." He discusses his creative process for short story-writing.
---
May 2, 2018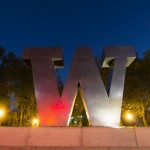 Issues of race and racism permeate American culture and media more than ever. The UW's Center for Communication, Difference and Equity will hold a three-day conference May 10-12 to explore these issues and foster engagement and support among academics.
---
May 1, 2018
Victoria Meadows, University of Washington astrobiologist, professor of astronomy and leader of NASA's UW-based Virtual Planetary Laboratory, has been named recipient of the 2018 Frank Drake Award from the SETI Institute. She is the first woman to receive the award.
---
April 19, 2018
Vikram Prakash says his weekly "ArchitectureTalk" podcast got its start, as many things do, from a student's idea.
---
April 17, 2018
Daniel Bessner, assistant professor in the Jackson School, has a new book from Cornell University Press: "Democracy in Exile: Hans Speier and the Rise of the Defense Intellectual."
---
April 12, 2018
Planets orbiting "short-period" binary stars, or stars locked in close orbital embrace, can be ejected off into space as a consequence of their host stars' evolution, according to new research from the University of Washington.
---
March 28, 2018
As the 50th anniversary approaches of the murder of civil rights leader Dr. Martin Luther King, UW historian Michael Honey reminds us in a new book that economic justice and labor rights were always part of King's progressive message.
---
March 14, 2018
African-American voters who dislike and feel threatened by Donald Trump and his presidency are more likely to vote and to engage with politics, according to new research from the UW and California State University, Sacramento.
---
March 8, 2018
The UW Jackson School of International Studies presents "Trump in the World: International Implications of the Trump presidency," a series of public lectures and discussions Tuesday afternoons through spring quarter.
---
Megan Ming Francis, UW associate professor of political science, has been named a fellow with the Thurgood Marshall Institute. The institute is a multidisciplinary research and advocacy policy center within the NAACP's Legal Defense and Educational Fund.
---
March 5, 2018
Immigrant rights, environmental concerns and racial, class, gender and sexual justice will be the focus of a daylong conference hosted by the Harry Bridges Center for Labor Studies March 10 at the UW.
---
March 2, 2018
Charles Simic, one of America's most celebrated poets, will give the 2018 Theodore Roethke Memorial Poetry Reading on April 12. Simic will be the 54th poet to appear in the series since its inception in 1964.
---
February 21, 2018
Quintard Taylor, UW professor emeritus of history and recipient of a lifetime achievement honor from Washington State Historical Society, discusses his work and this unusual moment in American history.
---
February 13, 2018
Pimone Triplett, UW associate professor of English and creative writing, has released "Supply Chain," her fourth book of poems.
---
February 6, 2018
After six months of repair and restoration — assisted by UW astronomer and sundial expert Woody Sullivan — Olympia's iconic Territorial Sundial is back in place.
---
February 5, 2018
A team of astronomers including Eric Agol of the University of Washington has found that the seven Earth-sized planets orbiting the star TRAPPIST-1 are all made mostly of rock, and some could even have more water — which can give life a chance — than Earth itself. The research was led by Simon Grimm of…
---
January 26, 2018
A biography of world-renowned oboe performer and teacher Marcel Tabuteau by the UW School of Music's Laila Storch has been republished in paperback by Indiana University Press.
---
January 25, 2018
Dan Berger, associate professor in the UW Bothell School of Interdisciplinary Arts and Sciences, discusses his new book, "Rethinking the American Prison Movement."
---
January 16, 2018
Get interrupted at work much? Making a quick plan for returning to and completing the task you're leaving will help you focus better on the interrupting work, according to new research from the University of Washington.
---
January 4, 2018
Jeff Hou, UW professor of landscape architecture, discusses the new book he co-edited with Sabine Knierbein, "City Unsilenced: Urban Resistance and Public Space in the Age of Shrinking Democracy."
---
January 3, 2018
UW astronomers Brett Morris and James Davenport assisted in new research on "Tabby's Star," named for Louisiana State University astronomer Tabetha Boyajian.
---
Next page