UW News
---
July 30, 2018
A University of Washington report provides the best projections yet for sea-level rise due to climate change at 171 sites along Washington's coasts.
---
July 23, 2018
Observations over the eastern U.S. show why emissions reductions haven't achieved the same results in winter as they have in summer.
---
July 18, 2018
New research suggests the Atlantic Ocean is transitioning back to its slower phase, which means average global air temperatures will go back to rising more quickly.
---
July 2, 2018
Regions of Arctic water are becoming ice-free in late summer and early fall. A new study is the first to consider potential impacts on the marine mammals that use this region and identify which populations will be the most vulnerable to ships.
---
June 21, 2018
More than 100 scientists and crew from more than 20 U.S. research institutions, including the UW, will depart in August for a month-long expedition to study how the ocean absorbs carbon from the atmosphere.
---
June 18, 2018
Tracking of two great white sharks reveals for the first time that in the open ocean they spend more time deep inside warm-water eddies.
---
June 11, 2018
A study of global maize production in 2100 shows dramatic increases in the variability of corn yields from one year to the next under climate change, making simultaneous low yields across multiple high-producing regions more likely, which could lead to price hikes and global shortages.
---
June 4, 2018
Twenty-five polar bear hunters in East Greenland were interviewed before the first formal assessment of this subpopulation, one of 19 subpopulations of polar bears in a changing Arctic.
---
May 23, 2018
The oldest ice core so far provides 800,000 years of our planet's climate history. A UW field survey in Antarctica has pinpointed a location where an entire million years of undisturbed ice might be preserved intact.
---
May 15, 2018
If an entire forest dies, new research shows, it has ricocheting effects in the atmosphere that can affect vegetation on the other side of the country.
---
May 10, 2018
The UW School of Oceanography has a new vessel, named after marine biologist, author and conservationist Rachel Carson. It will explore Puget Sound and nearby coasts.
---
May 8, 2018
UW glaciologist Knut Christianson is part of a massive collaboration that will collect on-the-ground data about a key Antarctic glacier that shows signs it could be collapsing into the sea.
---
May 3, 2018
In a study published online May 3 in the journal Science, a University of Washington-led team announced that it has discovered a method to encode information using magnets that are just a few layers of atoms in thickness. This breakthrough may revolutionize both cloud computing technologies and consumer electronics by enabling data storage at a greater density and improved energy efficiency.
---
April 27, 2018
Oceanographer Cecilia Peralta Ferriz is spending the academic year in Tromsø, Norway, to collaborate with colleagues who study flow out of the Arctic Ocean.
---
April 25, 2018
About twice each decade, the United Nations' Intergovernmental Panel on Climate Change, or IPCC, looks at what is known about the science of climate change, the extent to which human activities are changing the Earth's climate, and what risks these changes pose to human and natural systems. Organized into three working groups, each assessment is…
---
April 18, 2018
By using a keyboard to provide tactile feedback along with with a screen reader, blind and low-vision users were three times more successful at navigating complex modern webpages, similar to a typical Airbnb booking site.
---
April 3, 2018
Bowhead whales are constantly changing their tune, unlike the only other whale species that sings, the humpback.
---
April 2, 2018
Earth has had moderate temperatures throughout its early history, and neutral seawater acidity. This means other rocky planets could likely also maintain this equilibrium and allow life to evolve.
---
March 6, 2018
High in Mongolia's Gobi Desert, the climate is so dry and cold that glaciers shrank during the last ice age. Dating of rock deposits shows how glaciers in this less-studied region can behave very differently as the climate shifts.
---
February 7, 2018
A study from the University of Colorado Boulder and the University of Washington finds that the retreat of the ice sheet covering North America made Antarctic weather more similar from one year to the next.
---
High-speed recordings of Egyptian fruit bats in flight show that instead of using a primitive form of echolocation, these animals actually use a technique recently developed by humans for surveillance and navigation.
---
February 5, 2018
UW atmospheric sciences faculty and graduate students are in Tasmania studying how clouds form over Antarctica's Southern Ocean.
---
February 1, 2018
After an "extreme makeover" that went from stem to stern on five decks of the ship, the R/V Thomas G. Thompson is ready to get back to work exploring the world's oceans. The University of Washington's School of Oceanography, part of the College of the Environment, operates the 274-foot ship, which arrived on campus in…
---
January 24, 2018
A University of Washington study has found a simple approach to look for life that might be more promising than just looking for oxygen.
---
January 18, 2018
An experiment using hundreds of plastic drifters in the Gulf of Mexico shows that rather than simply spread out, as current calculations would predict, many of them clumped together in a tight cluster.
---
A new grant will let a University of Washington-based project add a new fleet to its quest to learn more about past climate from the records of long-gone mariners. The UW is among the winners of the 2017 "Digitizing Hidden Special Collections and Archives" awards, announced Jan. 4 by the Washington, D.C.-based Council on Library…
---
December 18, 2017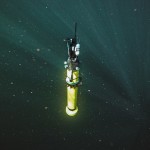 A new partnership between the UW and Paul G. Allen Philanthropies will use a network of robots to observe conditions beneath a floating Antarctic ice shelf.
---
December 11, 2017
New faculty member Shuyi Chen answers some questions about hurricane science, hurricane forecasting and the 2017 storm season.
---
December 5, 2017
An interdisciplinary team is using a covert sound-based approach, worthy of an avian CSI, to study the link between crows' calls and their behavior.
---
November 15, 2017
One of the saltiest bodies on Earth, an analog to how water might exist on Mars, shows signs of being one piece of a larger aquifer.
---
October 23, 2017
The largest number yet of detailed simulations for how a Cascadia Subduction Zone earthquake might play out provides a clearer picture of what the region can expect when the fault unleashes a 9.0 earthquake.
---
October 20, 2017
A satellite technique provides a new way to monitor the status of more than 1,200 mountain glaciers in the lower 48 states.
---
October 9, 2017
Paul Bodin, a UW seismologist and manager of the Pacific Northwest Seismic Network, has been named interim director of the network that monitors earthquakes and volcanoes in Washington and Oregon.
---
October 5, 2017
The eighth annual Northwest Climate Conference will take place in Tacoma, and begins with a free public discussion featuring UW experts on Monday evening.
---
September 21, 2017
University of Washington oceanographers are working with a local company to develop a simple new technique that could track seafloor movement in earthquake-prone coastal areas.
---
September 20, 2017
A hardy ocean drone made a first-ever attempt to surf across Antarctica's stormy Drake Passage gathering data about ocean mixing.
---
September 7, 2017
The National Science Foundation is funding the largest marine seismic-monitoring effort yet along the Alaska Peninsula, a region with frequent and diverse earthquake and volcanic activity. Involving aircraft and ships, the new Alaska Amphibious Community Seismic Experiment will be led by Cornell University in Ithaca, New York, with partners at the University of Washington and…
---
August 31, 2017
A new book focuses on climate change risks in the Northern Rocky Mountains, and how managers of public lands can prepare.
---
This exceptional, sudden nosedive in Antarctic sea ice last year was due to a unique one-two punch from atmospheric conditions both in the tropical Pacific Ocean and around the South Pole.
---
August 16, 2017
As corals face threats from warming oceans, a new study uses modern genetic-sequencing tools to help reveal the relationships between three similar-looking corals.
---
Next page