MLK Week
"The time is always right to do what is right."
— Martin Luther King, Jr.
Join the University of Washington community as we celebrate Martin Luther King, Jr.'s life and legacy; honor the work of generations of everyday activists; and rededicate ourselves to creating a just and equitable future for all.
There are many ways to get involved. You can roll up your sleeves and serve, be inspired by performances, learn about race and democracy, bear witness to artifacts of injustice and justice, and more. Learn about all MLK Week events here.
Drop by to celebrate the life and legacy of Martin Luther King, Jr. We'll have birthday cake, celebratory music, #UWMLKWEEK swag and more.
Thursday, January 11
11 a.m.-3 p.m.
Mary Gates Hall, suite 171
4-7 p.m., Ethnic Cultural Center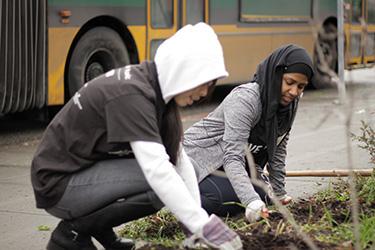 This MLK Day, join nearly 3,000 volunteers in helping organizations that support our county's most vulnerable. Organized by United Way of King County.
Monday, January 15
9 a.m.-4 p.m.
Various locations
Featuring more than 150 original artifacts from the year King was assassinated, including a document signed by him, materials from the day's top musicians, civil rights leaders and more.
Tuesday, January 16
8 a.m.-4 p.m.
Mary Gates Hall Commons
Martin Luther King, Jr. Tribute
Jorge Baron of the Northwest Immigrant Rights Project will speak at this tribute to Dr. King and community service.
Thursday, January 18
11:30 a.m.–1:30 p.m.
Warren G. Magnuson Health Sciences Center
Themes of justice and struggle are explored through dance, spoken word and rap.
Thursday, January 18
7 p.m.
Ethnic Cultural Center
And, there are more events!
Please note that the January RETRO event scheduled for Monday, January 8 has been canceled. We're sorry for any inconvenience and hope you join RETRO at their next open mic on February 5, 2018.