MLK Week
"We do not stand in the shadow of those who came before us, but in their glow. And that glow exists because they put forth a vision of the future and they fought for it."
— DeRay McKesson, 2018 p. 11
Join the University of Washington community as we celebrate Martin Luther King, Jr.'s life and legacy; honor the work of generations of everyday activists; and rededicate ourselves to creating a just and equitable future for all.
There are many ways to get involved. You can roll up your sleeves and serve, be inspired by performances, learn about race and democracy, bear witness to artifacts of injustice and justice, and more. Learn about all MLK Week events here.
Monday, January 14 and Tuesday, January 15
Curator Khalid el-Hakim will deliver a lecture entitled "The Truth Hurt: Black History, Honesty, and Healing the Racial Divide" over lunch on Monday, January 14.
Drop by to celebrate the life and legacy of Martin Luther King, Jr. We'll have birthday cake, celebratory music, opportunities to engage with the meaning of the holiday through conversation and games. . .plus #UWMLKWEEK swag!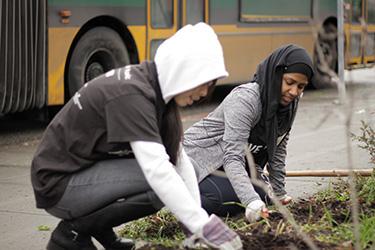 This MLK Day, join nearly 3,000 volunteers in helping organizations that support our county's most vulnerable. Organized by United Way of King County.
The Seattle MLK Jr. Organizing Coalition presents the 37th Annual MLK Day Celebration with the theme: affirmative action = JUSTICE".
And, there are more events!