Letter from the Dean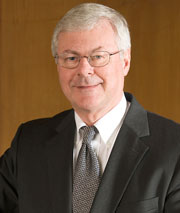 Dean Thomas A. Baillie
The moment of truth for our pharmacy students often arrives in the fourth year of pharmacy school—on the first day of that first rotation.
They get to apply everything they've learned in school in real-life pharmacies, working alongside experienced pharmacists and researchers.
All told, each student must complete nine one-month-long rotations—including at least one community, one ambulatory care, one health system and one general medicine rotation. (This advanced pharmacy practice experience is in addition to the eight credits of introductory pharmacy practice experience they must gain before their fourth year.)
They must learn a plethora of specific tasks, from public health screening activities to compounding.
This annual rite of passage gives students a firsthand understanding of the challenges and benefits of their chosen profession. And they consistently report that, through their rotations, they gain an enhanced ability to think on the spot, solve problems and make tough decisions.
Rotations: Some Highlights
UW pharmacy students have traveled the world (and at home) for rotations in recent years. Find out where our students completed rotations between 2008-10.

None of this would be possible without our preceptors.
The UW School of Pharmacy has a vast network of pharmacies that provide the sites and services to precept our students. They range from small community pharmacies to large pharmaceutical research companies. Each provides students with a rich and diverse learning experience.
While the majority of sites are in the Pacific Northwest, they are also located in other parts of the nation and even the world. In the past few years alone, for example, students have traveled to places such as France, South Korea and Uganda for rotations.
What's especially remarkable about the preceptor system we have in place through our Office of Professional Pharmacy Education is that every single site involved is volunteering its facilities to our students. Additionally, all of the individual preceptors, many of whom are alumni, offer their services and expertise free of charge.
During a time when our institution continues to face many uncertainties, I take great pleasure in acknowledging what an asset our preceptors are to our School and our students. So many of our alumni talk about experiences they had during a rotation as the seminal points that helped shape their career. In some cases, preceptors have not only offered students unique and interesting opportunities for growth; they have also offered them their first job out of pharmacy school.
I look forward to celebrating all of our preceptors—including those who volunteer in other important capacities outside the fourth-year model—once again at the annual School of Pharmacy Dean's Recognition Reception this spring.
I also hope to see you at other upcoming School events. In the meantime, I am pleased to highlight so many of our School's successes in this E-newsletter. Read on to learn about, among other things: a group of students who recently won the National Community Pharmacists Association Pruitt-Schutte Business Plan Competition; the significant accomplishments of our faculty, including their successful bids for stimulus funding; and the many highlights in the lives of your fellow alumni.
As always, feel free to contact us if you have feedback, questions and suggestions about this E-newsletter or about the School.
Best wishes,
Thomas A. Baillie, Ph.D., D. Sc.
Dean, UW School of Pharmacy