Students' Business Plan Wins National Competition
By Melinda Young
Frick's Rexall Drug Store in Sequim, Wash., opened in 1947, during an era when corner-store pharmacies were central to most communities. While countless independent pharmacies nationwide have shut down since that time, Frick's has remained a local mainstay, serving multiple generations of many families.
Current owner and pharmacist Cy Frick, son of the founder, plans to retire in the next few years. He'd like to find a buyer who will keep the pharmacy independent and continue providing personalized service to his loyal customer base.
Four UW pharmacy students would also like to see that happen. And they've created a business plan that just may help the drugstore remain a local mainstay.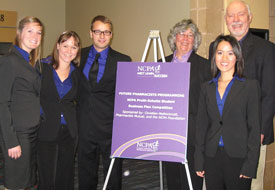 The award-winning team, from left: students Alisha Fewins, Rachel Merrill and Zsolt Hepp; Professor of Pharmacy Jackie Gardner, student Dana Ling and Clinical Professor of Pharmacy Don Downing.




Third-year Pharm.D. candidates Alisha Fewins, Dana Ling and Rachel Merrill and second-year candidate Zsolt Hepp created a business plan for Frick's for the National Community Pharmacists Association (NCPA) Pruitt-Schutte Business Plan Competition. In it, they demonstrated how the pharmacy could grow its profits if the new owner forms a junior partnership agreement with Jim's Pharmacy in nearby Port Angeles and receives a loan to modernize the facility and expand its services.

Their plan was so compelling that the team was chosen as one of three finalists to compete at the NCPA convention in New Orleans in October. At the convention, they presented their final plan to more than 300 people and answered in-depth questions from an expert panel of judges.

They won first place.

"With hundreds of people in the room when they announced the winning team, there was an overwhelming sense of pride," said Don Downing, clinical professor of pharmacy and one of the team's faculty advisers. "They accomplished a very public victory that was secured by hours upon hours of work out of the public eye."

Special Thanks Go to...
Several volunteers generously gave their time and expertise to advise the students. Find out who gets our sincerest "thanks!"

Hours upon hours might even be an understatement. The process started two years ago when Dana and Rachel enrolled in the School of Pharmacy's Business Plan Development class. It was taught by Downing and Jackie Gardner, professor of pharmacy and co-adviser of the team.

For their class project, they set out to write a business plan based on a real-life pharmacy. They focused on the small retirement town of Sequim to combine their interests in geriatric pharmacy and small-town pharmacy.

After learning that Cy Frick was considering retirement, the students and Downing successfully enlisted Frick's as their model. When the plan took shape as a partnership, they looked to Jim's Pharmacy in Port Angeles. Owners Jim and Joe Cammack, a father and son team who are both UW School of Pharmacy alumni, were more than happy to participate.

When the students decided to officially enter the Pruitt-Schutte competition, they recruited Alisha and Zsolt. The four of them met weekly to strategize and conduct research. They also spent significant time talking to Frick, the Cammacks, Sequim residents, faculty members from the schools of pharmacy and business, and local business experts.

"We collaborated with some really knowledgeable people in both independent pharmacy and business," said Rachel, "and it was fun to hear all the different perspectives on what makes independent pharmacy work."

Part of what makes Frick's work is that it has a solid niche — providing personalized service to Sequim's ever-growing retirement community.

"The independent pharmacies that have survived in recent years are the ones that have found a niche," said Cy Frick. "Once they find that niche, they have to cater to their clientele. Good service must be synonymous with independent pharmacy."

Building upon that service mentality, the students' plan proposes an expansion of the pharmacy's current offerings — to include services such as compounding and immunizations. The ability to offer such extensive personalized services is part of what makes independent pharmacies so special, according to Dana.

"Independent pharmacies are the personal touch to pharmaceutical care," she said. "They are an indispensible part of our communities."

The enthusiasm Dana and her teammates demonstrated for independent pharmacy is exactly what the NCPA hoped for when it created the Pruitt-Schutte Business Plan Competition. It also was created to help students understand what it takes to own a pharmacy. That's just what happened. The UW students' knowledge was so in-depth and their business plan so viable that one competition judge gave them a perfect score.

Ultimately, the students beat out 29 teams from pharmacy schools nationwide. They won $3,000 for their UW NCPA student chapter and $3,000 for the School of Pharmacy. They also received an all-expenses paid trip to the 2010 NCPA spring conference in St. Thomas, Virgin Islands.

As for Frick, who loved working with the students, he says he'd like to share the business plan with potential buyers of his store. If the students' plan comes to life, it could enable both Frick's and Jim's to increase their profits and provide enhanced services to more people.

The students would like nothing better than to see that happen.

Photo courtesy UW School of Pharmacy