March 2012
From the Dean
We are proud that we are an "Any Time, Any Place" Library. If patrons have a computer and a connection, our services—databases, online chat, subject guides, streaming course reserves—can be accessed at any hour. More...
---
In the Spotlight
Construction: UW Tacoma Tioga Library Building
Each week, staff at the UW Tacoma Library see the progress of the new Tioga Library Building, nearing completion adjacent to the UW Tacoma Library. More...
Updating Odegaard Undergraduate Library
In response to changing student needs since the opening of Odegaard Undergraduate Library in 1972, construction will begin on phase one of the Odegaard Undergraduate Library renovation process in June. More...
UW student architectural drawings online
In 2006, approximately UW Department of Architecture 1100 student drawings dating from 1914-1947, and some from the 1950s, were transferred from the Department of Architecture to Libraries Special Collections. Since then, a project has been underway to conserve and house the drawings, as well as create an online finding aid to improve access for researchers. More...
UW retiree's donation remembers 'lost generation' of Chinese immigrants
The word "bittersweet" comes to Maria L. Koh when discussing her recent gift to UW Libraries Special Collections—oral histories of the "second wave" of Chinese immigrants to the United States. More...
Facebook and Twitter
The Libraries posts breaking news and information on Facebook and Twitter. Join us and follow us on Facebook and Twitter!
---
Events
Literary Voices
Rebecca Brown, Keynote Speaker
Saturday, April 28; 6 p.m.
UW Club
Rebecca Brown is the author of seven novels, including The End of Youth (City Lights, 2003), The Terrible Girls, and What Keeps Me Here (Harper Collins, 1996), and her short stories are widely anthologized. Her novel The Gifts of the Body (Harper Collins, 1994) won a Lambda Literary Award and has been translated into several languages. Brown divides her time between Seattle and Vermont, where she is a faculty member in the Master of Fine Arts program at Goddard College.
Brown was the first writer-in-residence at Richard Hugo House, and serves as creative director of literature at Centrum in Port Townsend. She is a recipient of the 2003 Washington State Book Award, and The Stranger's Genius Award.
Other authors hosting dinner roundtables: Maid Adams, Jean Durning, Joan Singler & Bettylou Valentine; Kurt Armbruster, David Barash, Paula Becker & Alan Stein, Misha Berson, John M. Findlay & Bruce Hevly, Kathleen Flenniken, Molly Gloss, John Laursen, Stephen Manes, Karl Marlantes, Donna Miscolta, Richard Morrill, Jennie Shortridge, Art Wolfe.
Tickets are $125 to support Libraries preservation, collections and student scholarships. For more information and to purchase tickets, see: http://www.lib.washington.edu/support/events/literaryvoices/
Email uwlibs@uw.edu for more information.
Thank you to our event partners: Seattle Underground Tour, UW Alumni Association, Intrepid Travel, and media partner Seattle Weekly.
---
Exhibits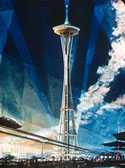 Century 21 Golden Anniversary
Special Collections Lobby (Allen Library South basement) and Allen Library North 1st floor balcony
April 2–July 31

An exhibition celebrating the 50th anniversary of Century 21 will highlight the planning, design, promotion, and activities of the 1962 Seattle World's Fair.
Taking it to the Streets: Protests, Strikes, and Activism in Washington State
Allen Library North lobby and Suzzallo Library ground floor
April 1–30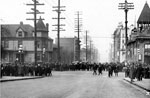 Materials drawn from Libraries Government Documents, Special Collections, and Microform and Newspapers illustrate the long history of protest in Seattle, including the Occupy Seattle Protests (2011-Present), the WTO Protests (1999), the Unemployed Citizens' Councils (1930s), the Seattle General Strike (1919), the Vietnam War protests (60s and 70s), and the IWW Free Speech Fights (1910s) among other themes.
Exhibit of media representations of the Occupy Movement will be located in Government Publications, Maps, Microforms and Newspapers corridor.
- Discover more Libraries Events and Exhibits