UW Student Architectural Drawings Online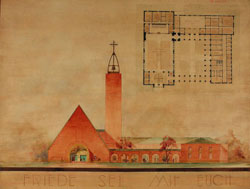 Victor Steinbrueck. Protestant Church and Sunday School Group, 1933. Design drawing: gouache/watercolor with graphite and ink on paper.
From its establishment in 1914 until 1961, the UW Department of Architecture kept a collection of its students' drawings. These served as teaching tools, as well as an archive of the development of its curriculum. The archive contains student drawings judged to be meritorious at the time of completion. The drawings employ a wide array of media and drafting techniques. They also demonstrate the transition in teaching architecture from the Beaux-Arts model to Modernism.
In 2006, approximately 1100 drawings dating from 1914-1947, and some from the 1950s were transferred from the Department of Architecture to Libraries Special Collections. Since then, a project has been underway to conserve and house the drawings, as well as create an online finding aid to improve access for researchers.
The items in the online exhibit were selected to highlight graduates of the program who went on to have influential careers, regionally and nationally. There is work by Roland Terry and Paul Thiry, both central to the regional approach to Modernism; Minoru Yamasaki, who designed the World Trade Center; and Victor Steinbrueck, whose commitment to historic preservation and activism are still evident in Seattle today.
View the online exhibit: http://content.lib.washington.edu/exhibits/dream-design-build/