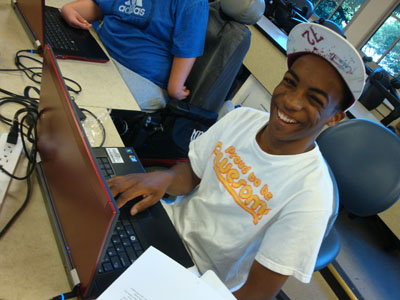 Among the strategies for meeting AccessComputing objectives are Communities of Practice (CoPs) for stakeholder groups. Communicating using email and other electronic tools, CoPs share perspectives and expertise and identify practices that promote the participation of people with disabilities in computing fields. The eight project CoPs are described below. Members in all CoPs gain and share knowledge and help identify issues related to the under-representation of people with disabilities in computing fields;
help identify, field test, and validate Computing Department Accessibility Indicators (www.uw.edu/accesscomputing/equal_access_csd.html) to make computing departments more accessible to students with disabilities;
help plan, attend, and recruit others to attend AccessComputing Alliance activities;
recruit students, including veterans, with disabilities into AccessComputing Alliance e-mentoring, internships, academies, and workshops;
co-sponsor events and discuss potential new projects and funding possibilities;
disseminate information about their projects and results through the Knowledge Base; and
helpAccessComputing Alliance staff target articles to publications.
Computing Faculty, Administrator, and Employer CoP helps computing faculty and administrators, as well as representatives from industry and professional organizations, increase their knowledge about disabilities and make changes in computing departments that lead to more inclusive practices. Participants


introduce Alliance staff to administrators of professional computing organizations so that staff can help these organizations make their websites accessible, their conferences accessible to attendees with disabilities, and their conference programs inclusive of disability-related topics;
identify campus computing events to which students with disabilities might be invited;
discuss how to include accessibility topics in postsecondary computing curriculum;
discuss issues and help locate Ph.D. graduates with disabilities to recruit as faculty;
provide connections with computing faculty and industry for internships; and
help Alliance staff target articles to computing publications.

Broadening Participation CoP is populated with Alliance collaborators who administer alliances and projects that serve to broaden participation in computing fields. Members


discuss how to recruit participants with disabilities and accommodate them in their programs and activities and to, overall, make their offerings more accessible.
Disability Services CoP of disability service professionals from community/technical colleges, four-year colleges, and universities nationwide, together with their networks of postsecondary and K-12 schools (e.g., affiliates of AHEAD) and parent groups (e.g., affiliates of PACER). Members of this CoP
deliver presentations to computing faculty to share information about accommodations and campus services for students with disabilities;
work with computing professors and administrators to invite students with disabilities to career fairs, computing lectures, and other events; work with groups to make sure activities are accessible; and help bring speakers with disabilities and exhibits that focus on disability-related topics; and
develop transition and bridge workshops in computing and/or help other Community of Practice members develop such activities;

Deaf and Hard of Hearing CoP of existing practitioners/networks that support individuals who are deaf or hard of hearing and are interested in increasing the representation of these individuals in computing fields. It includes researchers, college educators, K-12 school teachers, and representatives of networks of precollege and postsecondary schools for the deaf and hard of hearing, professional organizations, parent groups, and precollege and postsecondary institutions that have special programs for students who are deaf and hard of hearing. Members of this CoP


explore strategies for increasing the participation of students who are deaf or hard of hearing in computing fields.
locate speakers who are deaf or hard of hearing and recruit participants who are deaf or hard of hearing to computing conferences and other events nationwide;
develop computing transition and bridge workshops/academies for students who are deaf or hard of hearing;
provide input on the document Equal Access: Universal Design of Computing Departments relevant to the inclusion of students, faculty, and staff who are deaf or hard of hearing in computing departments; and
provide input regarding wording on all AccessComputing publications, web documents, and other materials to make them appeal to individuals who are deaf or hard of hearing, both those who identify with Deaf culture and those who do not.

Blind and Low Vision CoP connects practitioners who support individuals who are blind or have low vision. Members include researchers, college educators, high school teachers, schools for the visually impaired, and professional organizations. Members of this CoP


explore strategies for increasing the participation of students who are blind or have low vision in computing fields;
locate speakers and participants who are blind or have low vision to computing conferences and other events nationwide; and
develop computing transition and bridge workshops/academies for students who are or have low vision.
Veterans CoP is populated by veterans with disabilities, service providers, and volunteer mentors. Members
interact regularly to improve service to veterans with disabilities and their families;
discuss how to recruit veterans with disabilities and accommodate them in their programs and activities;
devise solutions that increase the accessibility of their program offerings;
develop internships, academies, and workshops to complement their program activities;
identify, recruit, and accommodate eligible AccessComputing participants;
co-sponsor events, discuss potential projects, and share funding possibilities;
share common concerns in their practices;
identify problems, goals, and resources;
form collaborations.

Invisible Disabilities CoP includes stakeholders who support individuals who have invisible disabilities (e.g., learning disabilities, Asperger's syndrome, attention deficits, psychiatric impairments) in computing fields. Members recruit project participants and explores strategies for increasing the participation of students with invisible disabilities in computing fields. Participants


gain and share knowledge and help identify issues related to the under-representation of people with invisible disabilities in computing fields;
discuss issues and help locate Ph.D. graduates with invisible disabilities to recruit as faculty; and
provide connections with computing faculty and industry for internships.

Mobility and Orthopedic CoP members explore strategies for increasing the participation of students with mobility or orthopedic impairments in computing fields and recruit project participants. Participants


gain and share knowledge and help identify issues related to the under-representation of people with mobility or orthopedic impairments in computing fields;
discuss issues and help locate Ph.D. graduates with mobility or orthopedic impairments to recruit as faculty; and
provide connections with computing faculty and industry for internships.
You and your colleagues can join AccessComputing CoPs by indicating which of the six CoPs you would like to join and sending the following information to accesscomp@uw.edu:


Name
Position/Title
Institution
Postal Address
Email Address