Popular spots near campus
"The Ave" in the U District
University Way, aka "the Ave," is a hot spot for off-campus student activity and dining. With movie theaters, plentiful shopping (including University Book Store and some of the city's best thrift stores), and an abundance of coffee shops, affordable restaurants and convenience stores, swarms of students and staff make the Ave their second home.
More information about the U District
Burke-Gilman Trail
Threading through the UW campus's southern reach, the Burke-Gilman Trail is one of Seattle's most popular outdoor paths. On any given day, you can find hundreds of people biking, running or just taking a stroll along this 27-mile urban trail, which extends from Golden Gardens Park in Ballard all the way to Bothell. Along the way, you can access plenty of public parks, including Gas Works Park, Magnuson Park, View Ridge and Matthews Beach Park.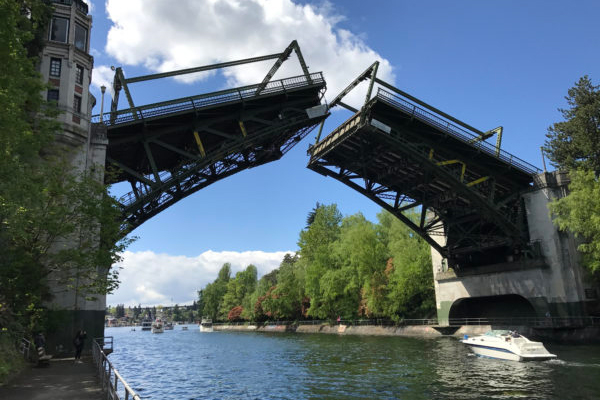 Montlake Cut
The Montlake Cut is a narrow engineered channel connecting Lake Washington to Puget Sound. Completed in 1916, it became an integral part of the Lake Washington Ship Canal, allowing boat traffic to pass through. Today, plenty of watercraft, including kayaks and canoes, use the cut, and people jump in for a swim during the summer. This is a great location to watch the Husky rowing team, as many of their races finish here.
University Village
You don't have to go far for great shopping: University Village, a sprawling outdoor shopping center, is just a 20-minute walk from the UW campus. Here you'll find upscale restaurants, groceries, clothing, housewares, furniture, gourmet ice cream and even a Tesla dealership.
Gas Works Park
With beautiful views of Lake Union and the Seattle skyline, it's not hard to see why this is one of Seattle's most popular parks. In addition to being a popular viewpoint, Gas Works boasts a playground, large grassy hills perfect for relaxing, strolling or flying a kite, and the intriguing remnants of the Seattle Gas Light Company's gasification plant. The plant was built in 1906 to produce synthetic gas, but was abandoned when cheaper methods of energy production became available. The city purchased the old plant back in 1962 and has operated it as a public park since 1975.
Green Lake Park
An urban oasis, Green Lake's expanse of water and lush greenery in the center of a dense neighborhood draws thousands of people daily from all over the city. The 2.8-mile path is popular for runners, bikers, skaters and walkers, and when temperatures rise, visitors flock to the park to swim, paddleboard, kayak and picnic along the shore. This picturesque park is a natural preserve for many species of trees, other plants and birds.
Ravenna Park
For an easy escape from the urban environment, head to Ravenna Park to enjoy a breath of fresh air in its forested ravine. In addition to the wooded area, the park offers several other recreational features, including a playground, trails and tennis courts. The peaceful setting has an interesting UW connection: In the early 20th century, as the first cars became available, fraternity brothers used the Ravenna Park Bridge as a racing strip!
Burke Museum
Founded in 1885, the recently rebuilt and reimagined Burke Museum is a great place on campus to encounter interesting things — a collection of more than 16 million objects, in fact. Among them are fossils, bird wings, Northwest native art, the skeleton of a Baird's beaked whale and myriad other examples of natural history and culture. With changing interactive exhibits on biology, paleontology, ethnography, contemporary culture and more, Washington's oldest museum with a brand-new home is a must-visit.
Henry Art Gallery
Founded on the UW campus in 1926 with a donation from Seattle businessman Horace C. Henry and his wife, Susan, the Henry Art Gallery is the only Northwest museum exclusively focused on contemporary art. More than 27,000 globe-spanning works range from paintings and prints to ceramics, costumes and textiles, and tickets are just $10 (free for all students). Don't miss artist James Turrell's meditative Skyspace, "Light Reign," a sculpture you can sit in to observe the ever-changing sky through an aperture in the ceiling.
Jacob Lawrence Gallery
The Jacob Lawrence Gallery, in the UW Art Building, is open to the public and hosts a variety of art exhibits, including student work. One of the most influential Black artists of the 20th century, Lawrence taught at the UW from 1970 to 1985. His paintings often engaged with historical events such as the Great Migration, World War II and the civil rights movement. The gallery is W.A.G.E. Certified, which means it's committed to providing fair compensation for artists.
Visit Seattle
Learn more about Seattle activities, lodging, restaurants and other attractions at Visit Seattle.
Note: Each photograph above was taken following the appropriate safety protocols at the time.