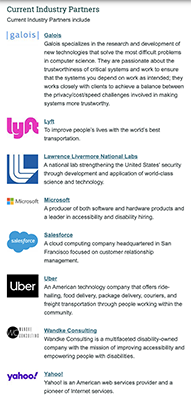 AccessComputing is host to a highly engaged institutional partners community, comprising academics and advocacy organizations, with the goal of paving the way through computing degree programs for students with disabilities. But, how can we support disabled students in the crucial transition to industry employment? This is one of the key questions we are now addressing under the recent 3-year extension of our project.
This month, we are kicking off a revamped Industry Partner program. In the past, we have worked to connect our eight partners––Galois, Lyft, LLNL, Microsoft, Salesforce, Uber, Wandke Consulting, and Yahoo!––to our students in computing degree programs and resources on disability inclusion through monthly partner meetings and mailing lists. Based on input from our current partners, we will continue to offer these services, as well as expand our offerings to include new opportunities:
a student panel to address questions on how to be an inclusive recruiter
partner socials to bring together professionals interested in disability inclusion
a partner panel to connect prospective employers to AccessComputing students
new industry-focused resources, like our new Accessible and Inclusive Hiring Guide
We have an ambitious goal to grow our industry partner network from 8 to 25 partners by Fall 2023, and we need your help. We invite you to share this call widely, and for those of you in industry, consider joining today. Reach out to accesscomp@uw.edu if you have any questions.