October 2014 | Return to issue home
Welcome, Director John Danneker.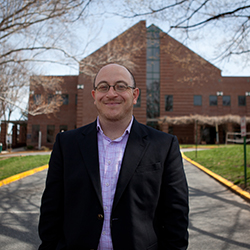 After a nationwide search, the Libraries is happy to announce that John Danneker assumed the role of director of Odegaard Undergraduate Library on September 15, 2014.

Danneker spent the last 13 years in positions at the George Washington (GW) University in Washington DC, most recently as the director of the Eckles Memorial Library on the undergraduate Mount Vernon Campus (2010-2014). Prior positions at GW included managing Eckles (2005-2010) and managing the circulation/reserves desk unit at the Gelman Library (2001-2005).

Prior to GW, Danneker worked in the Mills Music Library at the University of Wisconsin-Madison -- his first UW -- while completing graduate studies in musicology, focusing on 20th century popular music, with a thesis on racism and turn-of-the-century sheet music.

Dannneker is active in various national library organizations, including the American Library Association and the Association of College and Research Libraries.

He is looking forward to "working with all of the staff across the libraries and our university partners to build Odegaard into an even better experience for all users, both in services and spaces. (It's already wonderful!)"

Moving from one coast to the West will no doubt bring changes, but Danneker says, "I'm not afraid of cloud cover and rain, despite what many have said about Seattle. In fact, I'm looking forward to summers that do not include oppressive heat and humidity and that will allow for exploring the city both on foot and on the water. And I am really excited about my move to the West Coast, where I have always felt at home (despite my roots in Pennsylvania)."

Jill McKinstry, director of Odegaard for 17 years, retired this summer and was bestowed the title Librarian Emeritus. She oversaw the major remodel of the library, which was awarded the 2014 American Institute of Architects Honor Award for Interior Architecture. View a UW360 video about the "new" Odegaard Undergraduate Library.

Odegaard opened in 1972, and is named after University of Washington President Emeritus Charles E. Odegaard.

Photo: John Danneker, Jessica McConnell Burt /The George Washington University
October 2014 | Return to issue home
SUPPORT STUDENTS
Your gift to the Libraries can support student employee scholarships, student research awards, technology, digital initiatives and more.
---
Upcoming EVENTS
Oct. 15, Nov. 4 & 18: Engineering Lecture Series: This year's series, Engineering the Heart: From Cell Therapy to Computer Technology, explores how engineers are improving cardiac medicine and extending lives.
Nov. 6, 20 & Dec. 4: Graduate School Public Lectures brings leading minds to campus to discuss a variety of issues, ranging from political affairs to arts and culture.
Nov. 5-11: Veterans Appreciation Week: Mark your calendars for special celebrations of the armed forces and uniformed services personnel in the UW community.
---
uw ALUMNI ASSOCIATION
This newsletter is produced in partnership with the UW Alumni Association to support UW Libraries and to keep you connected to the UW alumni community.
UWAA members enjoy great discounts, access to career services and lifelong learning opportunities and more. Do you love the UW? Then you've got to be a member! Join now.
---
CONNECT WITH US