From the Boardroom

As we ring in 2012, we have a LOT to reflect on from 2011!

During the past year, the Alumnae Board members have had their proverbial hard hats on, working to restructure our beloved Board and implement a new closer partnership with the UW Alumni Association. This work and collaboration have led the board to a significant milestone: we are thrilled to announce that we have established the University of Washington Alumnae Board Scholarship Endowment Fund via the UW Foundation. More
---
In the Spotlight
UWAB Awards Student Tuition Scholarships
It seems every year, the scholarship selection process becomes more and more difficult. The complexity in this decision speaks to the caliber of students UW is enrolling. These students are inspiring, dedicated, diligent, well-rounded and BUSY! We have no doubt they are the future leaders and innovators of America, and we are thankful to be able to contribute to their success at the University of Washington!

For the 2011-2012 academic year we awarded five one-year full tuition scholarships to the following promising undergraduates and, get ready for this, ALL are currently on the Dean's List! Meet our excellent recipients!
---
UWAB News
UWAB Increases Outreach Efforts
Led by our firecracker Events Chair, Christy Austin, the UWAB has substantially increased programming in the Seattle Area, resulting in the increasing awareness of the Alumnae Board and raising additional scholarship funds.

During the fall, we hosted our traditional Homecoming tailgate bead sales during the 2011 Homecoming game against Arizona at Husky Stadium on October 29. Coming off a loss to Stanford the week before, and knowing a win at Homecoming would clinch a Bowl Game bid for the Huskies, you could feel the Husky Pride and excitement in the air before the game. It was a "Black out game", with a nighttime kickoff of 7:00 pm. With the Dawg fans wearing all black to match the team's all black uniforms, the sparkly helmet and football-shaped purple and gold necklaces and bracelets were a huge hit. A force of UWAB volunteers hit the pavement with UWAB aprons and identifiable traditional white UWAB buckets full of necklaces and sold, sold, SOLD! Our outstanding volunteers returned to the check-in table shortly before kick off with nearly $3,000 raised for student scholarships! It was a great way to kiss goodbye to our current Husky Stadium before extensive renovations were kicked off in early November.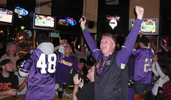 The UWAB also partnered with the Alumni Association to host viewing parties for away football games at Jillian's Billiards Club on Westlake in Seattle. With consistent attendance of over 100 Huskies, the Alumnae Board has found a way to bring fans together to wear purple and support students when the team is on the road. This new tradition has already brought in thousands of dollars for student scholarships. We hope you'll join us for an away basketball or football game in 2012!

We also wished the UW a very Happy 150th Birthday in style as we celebrated W Day on November 4th with Husky fans, All-American Husky running back Greg Lewis from the 1991 National Champion team, and the UW Alumni Marching Band. Alumni danced to familiar renditions of Tequila, Louie Louie, the Husky Fight Song, and more! Guests entered a raffle to win "I love the UW" t-shirts, and enjoyed a great meal and discounted drinks, with all the proceeds going to student scholarships.

Facebook, twitter, and the UWAB/UWAA websites have all been instrumental in growing our engagement and audience - the UWAB has gone viral!

Please "like" us on Facebook at www.facebook.com/UWAlumnae to receive event alerts and check www.UWAB.org frequently for updates!
---
Save the Date
Upcoming UWAB Events
Keep an eye out for information on our upcoming events - we'd love for you to join us! We're always in need of helpers, so please contact us if you would like to help plan or volunteer at any of these events also:
UWAB Meet and Greet: January 26, 2012


Dawg Days in the Desert Coffee and Conversation Luncheon: March 12, 2012


Mother's Day Brunch: May 12, 2012


Rhododendron Tea: Late May/early June 2012.
More detailed information.

Hope to see you there!
---