UAA in the News
Record Number of UW Undergraduate Alumni Selected for Fulbright Fellowships
The Fulbright U.S. Student Program awarded scholarships to 11 UW alumni who recently earned their undergraduate degrees. For the UW, this is the largest number of undergraduate Fulbright awardees.

Jenee Myers Twitchell
Busy Dream Project Co-founder Fulfills Her Educational Dreams
Jenee Myers Twitchell, '04, '09, co-founder of the Dream Project, discusses her own higher education experiences, the Dream Project, and leadership.

Frances McCue Talks about Richard Hugo, Poet and UW Alum
Interview with Honors Program writer-in-residence Frances McCue, '88, about her book The Car That Brought You Here Still Runs: Retracing the Northwest Towns of Richard Hugo (University of Washington Press). In addition to her work in the Honors Program, McCue was on the selection committee of the 2010 UW Common Book, and wrote the introduction to it. Hugo's poem "Degrees of Gray in Philipsburg" is in the UW Common Book.

UW Undergraduate Encourages Children Through Pipeline Project Program
UW sophomore Dawn Tuason began her fall quarter early and far away from the UW's Seattle campus. With seven other undergraduates, Dawn helped launch an expansion of Alternative Spring Break in which UW students will work with fifth graders in Neah Bay over the course of the year. The expansion is made possible by Alyson McGregor, '83.

Madeleine McKenna the Second McKenna in Honors and ASUW President
The Seattle Times profiled Madeleine and her father, Attorney General Rob McKenna, '85, upon Madeleine's election to ASUW president.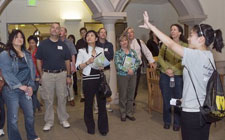 Parents of new students get orientation too.
Parents Need Orientation Too
Twice a week during summer quarter the UAA's First Year Programs offers a one-day orientation for the parents of students who have been newly admitted to the University. The program comes on the second day of student orientation, but is entirely separate. It's planned, says First Year Programs Director Grant Kollet, as the groundwork for a partnership.

More Than Just Pre-College Orientation—It's an Outdoor Adventure
When you're harnessed to safety ropes and walking across a log dozens of feet in the air, you had better trust the folks who are spotting you from below. Thankfully, trust and team-building exercises are right at the heart of Outdoor Adventure, a set of summer experiences offered to new UW students by First Year Programs, in addition to the standard college orientation all incoming freshmen receive.

From Addicted to Accomplished
Interview with 2002 grad and Mary Gates Scholar Max Hunter. Pursuing a career in academia—first at Harvard and now as a UW Ph.D. student and teaching fellow at Seattle Pacific University—Hunter has begun sharing his story. He recently gave a talk in the Veterans of Intercommunal Violence series at UW's Clowes Center for the Study of Conflict and Dialogue, and is working on a pair of books.

UW Students Collaborate with Tohoku Students for Undergrad Symposium
Nearly 750 of the University of Washington's most accomplished undergraduates showcased their contributions to innovative and ground-breaking research at the 13th Annual Undergraduate Research Symposium. Particularly notable was the collaboration between UW students and students at Tohoku University in Japan. Some Japanese students traveled to the UW to present their work.
UW Students Win Udall, Boren, Goldwater Scholarships
Seven UW students have been chosen for prestigious national scholarships this year. Two have captured Morris K. Udall Scholarships, one will receive a David L. Boren Scholarship, while four are being honored as Barry M. Goldwater Scholars.