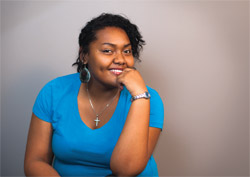 Sophomore Dawn Tuason is part of the first class of UW students involved in a new year-long UW service project to help fifth-graders at Neah Bay Elementary School tell their own stories through a digital documentary. Learn more at exp.washington.edu/pipeline.
While many of her classmates were relaxing on a sunny beach or catching up on sleep, UW sophomore Dawn Tuason spent last spring break in cool and rainy Forks, Washington. For a week, she helped a spirited group of third-graders write books about their dreams.
"I wanted a chance to challenge myself, to get out of my comfort zone," says Dawn, one of 50 students who participated in Alternative Spring Break (ASB), where UW students work with K-12 students in rural and tribal areas of Washington to help promote literacy and environmental education. "I couldn't have asked for a better way to spend a school vacation."
With generous support from alumna Alyson McGregor ('83), a strong proponent of learning outside the classroom, the UW Pipeline Project, which runs ASB, will add a yearlong outreach project. It begins this fall with eight UW students, including Dawn, who is pursuing majors in both public health and early childhood and family studies. UW students will work with fifth-graders at Neah Bay Elementary School in the northwest corner of the Olympic Peninsula to develop a digital documentary comparing the Makah Nation with other cultures.
The UW students will spend three weeks throughout the year in Neah Bay, including two weeks before fall quarter begins and ASB week, and take a year-long seminar on campus, catching up with the kids twice a month through video conferences. In the spring, the fifth-graders will spend three days on the Seattle campus to learn more about college and debut their film.
"I really want to develop a mentor-student partnership and learn about the Makah tribe, not just through the Internet or books, but from the children themselves," Dawn says.