Alumni in the News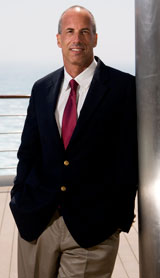 Les McCabe
Les McCabe, MSW '82, is the president of a global education program Semester at Sea with the University of Virginia. After getting an MSW at UW, Les continued his studies at Seattle University where he earned an M.P.A., and later received a Ph.D. in Administration of Policy Studies at the University of Pittsburgh.
After receiving his MSW, Les worked with the Casey Family Program in Seattle until 1987, then took the position with the Institute for Shipboard Education, sponsors of the Semester at Sea program. About his MSW Les notes, "While I no longer work directly in the field of social work, I continue to appreciate the skill set I developed during my graduate education and post-grad work experience, which serves me well in the field of international education administration. Despite the fact that our primary focus is centered on providing students with a global perspective, we also incorporate aspects of social work into our programs, including international service learning projects and other community organization components that remind me of the 'COS' track I was on while at the School in 1980."
Ruthann Howell, MSW '83, was recently named a Woman of Influence by the Puget Sound Business Journal. We also sat down with Ruthann to learn more about career. Read the interview.
Michael Holtby, MSW '72, who has been in full-time private practice in Denvers since 1977, sends word from Kunming, China, where he and his wife, Judy, a psychiatric nurse, presented a full day workshop "Core Beliefs in Cognitive Behavioral Therapy" and "Patient & Family-Centered Inpatient Psychiatry" to doctors and nurses at the Yunnan Department of Mental Health. More.
Terry Reid, MSW '74, writes to share his experience as the only American at the World Health Organization's Tobacco Control Program Workgroup in Tunis, Tunisa. More.
Elizabeth "Liz" Mendez, MSW '06, is a senior counselor at the UW Office of Admissions and is passionate about volunteering to help immigrants. Find out why.
Last fall Lisa Iversen, MSW '92, published her first book, Ancestral Blueprints: Revealing Invisible Truths in America's Soul. More.

Cat McIntyre
Cat McIntyre, MSW, '72,is a hospice social worker at Whatcom Hospice in Bellingham, Wash.
Nancy Raiha, MSW '76, Ph.D. '86, retired as a colonel in the U.S. Army in 1999. Since then she has worked as a researcher for the state of Washington. She runs the Executive Management Information System for the Department of Social and Health Services, and coordinates all agency-wide surveys for DSHS. She works in partnership with the School of Social Work on a number of projects, including Partners for Our Children. She also serves on the Advisory Board for the UW Tacoma School of Social Work.
Craig Olson, MSW '87, is one of 30+ resident monks at Mount Shasta Abbey in California.

Yoosun Park
Yoosun Park, MSW '96, Ph.D. '03, received the honorable mention of the 2010 Society for Social Work Research Excellence in Research Award from the Society for Social Work and Research for her article, Facilitating Injustice: Tracing the Role of Social Workers in the World War II Internment of Japanese Americans.
Marla Moore, MSW '97, LCSW, relocated back to Seattle this spring, and is working for the Seattle Veterans Affairs, providing psychotherapy to veterans and their families.

Erin Casey
Erin Casey, MSW '97, Ph.D. '06, is an assistant professor in the UW Tacoma Social Work Program, and collaborates with the UW Seattle SSW CHAP research team on their study of young men's sexual scripts and sexual risk. Erin notes, "I received incredible mentorship from the SSW faculty (and continue to be lucky enough to receive that mentorship), which has immeasurably supported both my research and teaching here at UWT."

Janice Sabin, Ph.D. '01, is the lead author of a paper published in the August issue of the Journal of Health Care for the Poor and Underserved, which stirred up some controversy and debate in the American Medical Association. Read the article.
Lucy Jordan, Ph.D. '06, has accepted a new position as Lecturer (tenure track) at University of Southampton, School of Social Sciences, Division of Social Work Studies. Congratulations Lucy!
Two more alumni have received tenure this past month: Tracey Burke, Ph.D. '03, at the University of Alaska and Maryah Fram, Ph.D. '03, at the University of South Carolina.
Karmel Shields, MSW '95, is the new executive director of the YWCA of Olympia. More.