Meet Ruthann Howell, MSW '83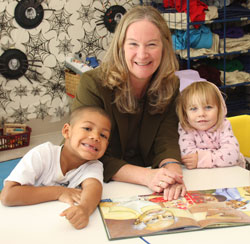 Ruthann Howell in the classroom
Q. What attracted you to social work?
A. I think I knew fairly young that I wanted to work with children and as I had the opportunities to do so through volunteer activities at various camps, and then teaching swimming during high school, that desire was reinforced. Ultimately I chose social work as the focus area because it seemed to have a more strength-based approach to working with people and focused more on how to work with the situation and the belief that people can change and create the life they deserve for themselves.
Additionally, especially when I was at the School, the admin track was focused on community organizing which had great appeal to me, since it was my desire to change the lives of children—particularly kids who had been abused—and the systems that did not seem as responsive to children and families as I thought they should be. So the combination of being able to make a real difference in the lives of kids, and to ultimately be able to change the social fabric of our world through systems change, led me to social work.
Q. How has your UW SSW education shaped your career path?
A. One of the very appealing aspects of the MSW program at the UW was the practicum program. In looking at what I wanted to do in my career, all the position descriptions talked about having an MSW and five years of experience. The practicum program provided the opportunity to gain more experience but to do it with very seasoned professionals and leaders directly in roles that I would not have had enough experience to be considered for hire. So I saw it as a sort of jump-start in building my experience, and providing great experiential learning opportunities which I embraced fully. In addition, I met some amazing social workers and leaders and benefitted greatly from my experience working with them.
The other benefit was having people who knew what I was capable of and who could provide guidance and references for me when I was starting my own professional career after graduate school. The most lucky thing about all of it is that many of the people I met through my practicum, for example Rita Ryder at The YWCA, have become close professional and personal friends, so I continue to benefit from my time at the UW School of Social Work!
Q. How has the profession changed in the last 20 years?
A. As with everything, there have been many changes, reflected by the many changes in our surrounding world. Since I am in administration and leadership, I'll focus on that area. A couple of big areas that I see is that the need to be financially literate with regard to financial management, development and business practices is critical and the amount of time resource development takes in my role as CEO is a top priority. When I was in graduate school in the '80s, they did not even provide a budget or finance class—which I understand has changed—and the development focus was primarily on grants and relationships with the public sector. The growing recognition that our future is individuals and the need to have a CEO who understands cultivation and stewardship and leads a board who sees that as one of their primary roles is a big change from when I first started.
I see this as an extension of doing what social workers are already good at—building relationships with integrity—which is the major skill set required in cultivation and stewardship. Additionally, the recognition that running a not-for-profit is running a business (indeed the not-for-profit sector is a vibrant economic engine in our community), and that utilizing best business practices are not antithetical to a nonprofit mission, but rather enhances the ability to achieve a mission, is one of the other big changes I have seen since graduate school.
Q. What advice would you give to students at SSW?
A. Follow your heart and your passion strategically. I did not have a big career plan but pursued areas of service I was passionate about, took every opportunity to learn from other people (still do), pursued every opportunity to take on new responsibilities and learn from them, and was very present in each position I was privileged to hold.
I have been very lucky in the number of people who have invested in me and my professional development (and still do), and have felt called to each position I have held. It seems that when it was time to do something new, doors were open to me and I was fortunate to have the opportunity to be able to enter through some of them. Definitely take advantage of any internship or practicum you can since building that experience is critical to your career development. There are a lot of people out there with degrees so it is important to be able to demonstrate that you can do something and bring value to the organization. Plus, strategically, it builds references for you.
Also be sure to learn from the other students. My class was rich with people who had amazing experience already and insights. And some of those classmates have become lifelong friends—another bonus!
I will also tell you that while agencies like ours look for a certain level of competency or credentialing, we also look for people who want to be part of changing the world through our work with children and families, and who are more focused on achieving the goals we have laid out for ourselves than who gets the credit. So the characteristics you bring to the table are equally important. (I also find having a sense of humor and being able to laugh at yourself helps a lot in our work!)