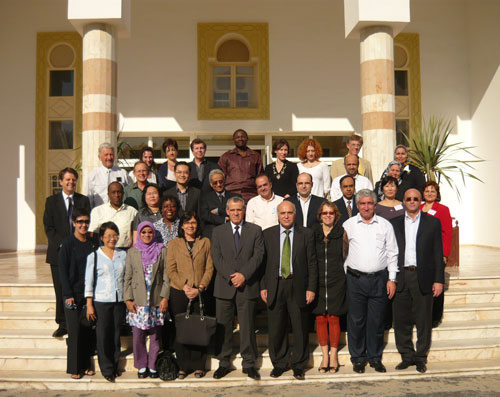 Terry Reid, MSW '74, with colleagues from WHO workgroup in Tunis, Tunisia
Terry Reid, MSW '74, Shares WHO Tunisian Experience
I attended the World Health Organization's (WHO) Tobacco Control Programs Workgroup in Tunis, Tunisia on Nov. 13-14, 2009. As the only person from the U.S. invited, I joined a group of about 35 program directors from around the globe, consultants and WHO Tobacco Free Initiative staff. I had been invited based on my nine years of experience in directing Washington state's successful tobacco control program.
The meeting's purpose was to identify materials and processes to support the development of effective tobacco control programs. So far 167 nations have ratified the Framework Convention for Tobacco Control, an international public health treaty to counter the epidemic of tobacco use. Many of those nations will need technical assistance to establish effective programs and policies. WHO estimates that without strong tobacco control actions, as many as one billion people will die from tobacco related diseases worldwide this century. Only 27 nations have not yet ratified the treaty, including the U.S. and Russia. I did not fully appreciate the significance of that until I arrived in Tunis for the meeting.
Many of the participants had serious questions why a non-treaty signing American was invited. Some of the questions included,"Do you think President Obama will approve the treaty?" and,"Why has the U.S. not yet approved the treaty?" I found myself answering for the actions of our federal government, not just Washington state.
Global tobacco control is still in the early stages of development. I felt very privileged to be included in the Workgroup and found that my experience was relevant to defining the capacity needed for the development of new programs. In many respects the discussions were the same as at the Centers for Disease Control meetings, except the people involved came from programs in Iran, Hong Kong, Thailand, Serbia, Brazil and elsewhere.
Making new friends and starting to understand the challenges of global public health made this an incredible trip for me.
Terry R. Reid,
Director, Tobacco Prevention and Control Unit
Washington State Department of Health