Diversity Director to Receive Community Building Award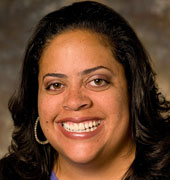 Jai-Anana Elliott
Jai-Anana Elliott, associate director of diversity and recruitment at the UW Michael G. Foster School of Business, has been named the recipient of the 2010 University of Washington Vice President for Minority Affairs and Vice Provost for Diversity Community Building Award.
The award will be presented at the Multicultural Alumni Partnership (MAP) Bridging the Gap Breakfast, on Sat., Oct. 16. The MAP breakfast will be held in Haggett Hall (Cascade Room) from 8-10 a.m.
Elliott manages recruitment for the undergraduate program at the Foster School of Business, and oversees the School's diversity programs and undergraduate scholarship process. Elliott received the Foster School's 2009 Staff Excellence Award and was a two-time recipient of the Staff of the Year Award. She also received the UW's Jeffery and Susan Brotman Diversity Award in 2002.
Among her many achievements, Elliott envisioned and implemented Young Executives of Color (YEOC), a community outreach program targeting underrepresented high school students. She initiated and now directs the School's participation with the Alliances for Learning and Vision for Underrepresented Americans (ALVA), a Boeing intern program for underrepresented high school seniors entering their freshman year. Most recently, Elliott created a bridge program for incoming freshmen which launched in the summer of 2010. Elliott's efforts do not end at the recruitment level, as she is an adviser for the Association of Black Business Students and works closely with the Hispanic Business Students Association, as well as other UW organizations to help students feel connected to the business school.
The award recognizes a University of Washington student, staff member or faculty member whose efforts toward positive change on campus have resulted in multicultural community building. Previous winners include Dr. Michelle Habell-Pallán (Department of Women's Studies, 2009), Michael Verchot (Foster School of Business, 2008), Carolyn Chow (School of Nursing, 2007), Dr. Gino Aisenberg (School of Social Work, 2006) and Dr. Sheila Edwards Lange (Office of Minority Affairs and Diversity, 2005).
Learn more about the MAP Breakfast.