Multicultural Alumni Partnership
The Multicultural Alumni Partnership was formed in the spring of 1995 to promote diversity within the Alumni Association and the University community, as well as to encourage students, faculty and alumni from diverse or disadvantaged backgrounds in their studies and careers. The club sponsors the annual Bridging the Gap Breakfast to honor alumni who have made a positive impact on their communities.
2014 MAP Bridging the Gap Breakfast
Saturday, Oct. 25, 2014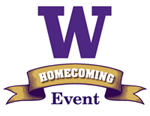 Online registration is now closed. Thank you for interest. Please contact Allison Cloud at acloud@uw.edu or 206-221-9271 with any questions.
Join us for a celebration of diversity in our community and the University of Washington. The Bridging the Gap Breakfast is an exciting opportunity to recognize distinguished alumni winners, raise funds for the MAP Endowed Scholarship and announce the 2014 MAP scholarship recipients.
Distinguished Alumni and Community Awards
The awards will be presented at the Bridging the Gap Breakfast on Saturday, October 25, 2014.
MAP Scholarships
This endowed scholarship is available to continuing UW students with at least one quarter of study at the UW. MAP will award up to five scholarships at its Bridging the Gap Breakfast on Homecoming Saturday each year.
Meet the 2013 MAP Scholars:
Svetlana Belikova, '14, Communications and Political Science
Brady Kent, '14, Earth and Space Science
Tania Santiago, '14, Sociology and Education
Kamaria Carnes, '14, Psychology (Owen G. Lee Scholarship)
Ivan Cuevas, '14 Master of Social Work (Alfredo Arreguin Scholarship)
Scott Fung, '14 Master of Public Health (Dr. Lois Price Spratlen Scholarship)
Meet the 2013 MAP scholars.
The deadline for applying is May 30, 2014.
Qualifiations for MAP Scholarships:
Continuing UW student in good standing
Full-time undergraduate or graduate student at the University of Washington
Minimum one quarter at the UW
Financial aid need as determined by Office of Student Financial Aid
Scholarship recipients must be present at the Bridging the Gap Breakfast on Saturday, October 25, 2014 in order to receive the scholarship
Support MAP
You can help support the Multicultural Alumni Partnership. Donate online to the MAP Endowed Scholarship Fund that provides access and opportunity for economically disadvantaged UW students.
Office of Minority Affairs & Diversity
For more information about diversity issues and programs at the University of Washington, please visit the Office of Minority Affairs Web site.
2012-14 MAP Board Members & Advisors
Board Officers
President:
Carmela Lim, '05
Vice President:
Rev. Jason Boyd
Treasurer:
Diane Martin, '74, '85
Secretary:
Dr.Sonnet Retman
Immediate Past President:
Dr. Steve Sumida, '82
Board Directors
Kennie Amaefule, '87, '02
Eleanor Cado, '76
Dr. Tracy Hilliard, '00, '03, '10
Frank Irigon, '76, '79
Gwen Jackson, '04
Fred Johnson
Dr. Sheila Edwards Lange, '00, '06
(ex officio)
Sharon Mast, '70, '75
Santiago Ramos, '02
Dr. Cynthia Rekdal, '62, '77', '82
Dr. Jim Simmons, '63, '69, '74
Dr. Thaddeus H. Spratlen
Board Advisors
Dr. Myron Apilado
Jim Cacabelos, '84
Elaine Chang, '83
Cynthia del Rosario, '94, '96
Christopher Diangco, '07, '08
Candace Fries
Dr. Carver Gayton, '60, '62, '76
Elena Guevara, '88
Dr. Sandra Madrid, '81, '85
Dr. Larry Matsuda, '67, '73, '78
Leah Reuben-Werner, '07
Dr. Terryl Ross, '03
Dr. Millie Russell, '80, '86, '88
Les Sessoms, '89
Dr. Carol Simmons, '68
Justin Simmons, '93
Joseph Witt
Dr. Nadine Chan Witt, '01

Historian
Vivian O. Lee, '58, '59
OMA&D-MAP Liaison
Priya Frank, '04, '11
UWAA-MAP Liaison
Liani Swingle