Jan. 2014 | Return to issue home
Hirabayashi Papers at Libraries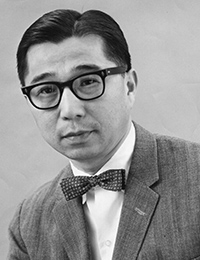 On May 16, 1942, five months after Japan bombed Pearl Harbor, the last Seattle bus taking Japanese Americans to internment camps was about to leave. Gordon Hirabayashi's life was about to change forever.

Hirabayashi, '46,'49,'52, was in his senior year at the UW and refused to get on the bus. Instead, he turned himself in to the FBI. He was one of three Japanese Americans to violate the government's exclusion order.

"I wasn't a rebel looking for a cause," says Hirabayashi. "In fact, I was preparing to go. But in the days before I was supposed to leave, I realized that I couldn't do it." Read more.

Libraries' Pacific Northwest Collection is adding Hirabayashi's personal effects to the archive. Hand-penned letters written while in the King County Jail to the Friends Committee, photographs, Auburn High School yearbooks and legal papers will be available for scholars at UW and beyond as a selection of these will be digitized. The Presidential Medal of Freedom, awarded posthumously to Hirabayashi in 2012 by President Obama, will be given to UW from the Hirabayashi family and placed on permanent display in the HUB. Visit UWalum.com/hirabayashi for a schedule of events and more information.

Photo: Gordon Hirabayashi, 1964.
Jan. 2014 | Return to issue home
SUPPORT STUDENTS
Your gift to the Libraries can support student employee scholarships, student research awards, technology, digital initiatives and more.
---
Upcoming EVENTS
Feb. 19: Drs. Randall O'Reilly and Chantel Prat will discuss The Neuroscience of Good Decision Making as part of the 2014 Allen L. Edwards Psychology Lecture Series.
Feb. 27: Career (Re)Launch, a workshop for alumni who are looking to land their first job or transition to a new role after being in the workforce for several years.
March 11: Former president of Starbucks, Howard Behar, joins his daughter, the co-founder of GROW Parenting, in Life Skills for Leaders: An Empowering Talk for Teens + Parents.
---
uw ALUMNI ASSOCIATION
This newsletter is produced in partnership with the UW Alumni Association to support UW Libraries and to keep you connected to the UW alumni community.
UWAA members enjoy great discounts, access to career services and lifelong learning opportunities and more. Do you love the UW? Then you've got to be a member! Join now.
---
CONNECT WITH US