Courage in Action: A Symposium on the Life and Legacy of Gordon K. Hirabayashi

For the 2014 Day of Remembrance and in honor of civil rights icon Gordon Hirabayashi, '46, '49, '52, you are invited to join scholars, alumni and community members in celebrating Hirabayashi at this public symposium featuring lectures, performances and remembrances by the Hirabayashi family, and presentation of Hirabayashi's Presidential Medal of Freedom, awarded posthumously to Hirabayashi by President Obama in 2012.
The symposium will take place on Saturday, Feb. 22, beginning at 1 p.m. Admission is free, but advance registration is requested.
Schedule of Events

Saturday, Feb. 22
1-3 p.m. – Program in Kane 120; speakers outlined below
3-4 p.m. – Reception in Walker Ames Room, including, book signing and refreshments
4-5:30 p.m. – Program in Kane 120 continues with the family of Gordon Hirabayshi
1:00-5:00 pm – Civil Disobedience! The Life and Legacy of Gordon K. Hirabayashi, an exhibit showcasing the collection will be open in Suzzallo and Allen Libraries
Mistress of Ceremonies: Lori Matsukawa, Anchor, King 5 News
Program
Acceptance of Gordon K. Hirabayashi's Presidential Medal of Freedom
Ana Mari Cauce Ph.D.
Provost and Executive Vice President, Office of the Provost, Professor, Psychology Department, University of Washington
Speakers
Lane Ryo Hirabayashi, Ph.D.
Professor, Department of Asian American Studies University of California,
Los Angeles
Title of talk: "Why Did He Resist?" Gordon Hirabayashi's Pre-War Roots
Roger Daniels, Ph.D.
Charles Phelps Taft Professor Emeritus of History, University of Cincinnati
Title of talk: Gordon Hirabayashi and Citizenship in Time of War
Judge Mary M. Schroeder
Senior Circuit Judge, U.S. Court of Appeals for the Ninth Circuit
Title of talk: Gordon Hirabayashi's Timely Lessons About Courage
Panel moderated by Tetsuden (Tetsu) Kashima, Ph.D.
Professor, Department of American Ethnic Studies and Adjunct Professor,
Department of Sociology, University of Washington
Anne Jenner
Pacific Northwest Curator, Special Collections, University of
Washington Libraries
Jay Hirabayashi
Executive Director, Kokoro Dance, Vancouver (B.C.) International
Dance Festival
Jay will perform a Butoh dance.
Reception, Walker Ames Room
The reception will feature a book signing by Prof. Lane Ryo Hirabayashi, co-author of A Principled Stand: the Story of Gordon Hirabayashi v. United States, which he wrote with his uncle Gordon and his father, the late James Hirabayashi. Light Refreshments will be served.

Program resumes: Family of Gordon Hirabayshi
Panel moderated by Gail Nomura, Ph.D.
Associate Professor, American Ethnic Studies, University of Washington

Panelists:

Susan Carnahan
Esther Furugori
Sharon Yuen
Marion Oldenburg
Jay Hirabayashi
Alisha Hurley
Kim Furugori
For more information about this event, please contact A.C. Petersen at acpete@uw.edu or 206-543-9389.
Other Events
Hold These Truths, a play by Jeanne Sakata. Solo staged reading at Theatre off Jackson, concurrent with the SPF 8 Solo Performance Festival. Feb. 22 at 7:30 p.m. and Feb. 23 at 2 p.m. $15 general admission/$10 seniors and students.
About Gordon Hirabayashi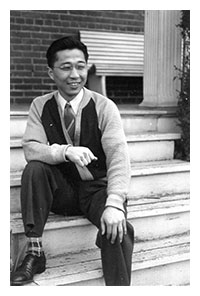 In a remarkable show of personal courage, Auburn native Gordon Hirabayashi was one of handful of Japanese Americans nationwide to defy U.S. government curfew and "evacuation" orders issued in 1942 (in the context of World War II) to persons of Japanese ancestry who lived on the West Coast. Hirabayashi considered the orders to be a gross violation of Constitutional rights. He was arrested, convicted, and imprisoned, and eventually appealed his case to the U.S. Supreme Court. Although the Supreme Court upheld his conviction at the time, the fight to overturn it resumed in the 1980s, culminating in his judicial vindication. After the war, Gordon Hirabayashi became a sociologist. He spent most of his career teaching at the University of Alberta, in Edmonton, Canada. He died on January 2, 2012.
Gordon's family graciously donated a collection of his journals, recordings, legal papers and photographs to UW Libraries. The day is organized around this act and honoring the family.