Sept. 2013 | Return to issue home
Odegaard Library: Ready for students!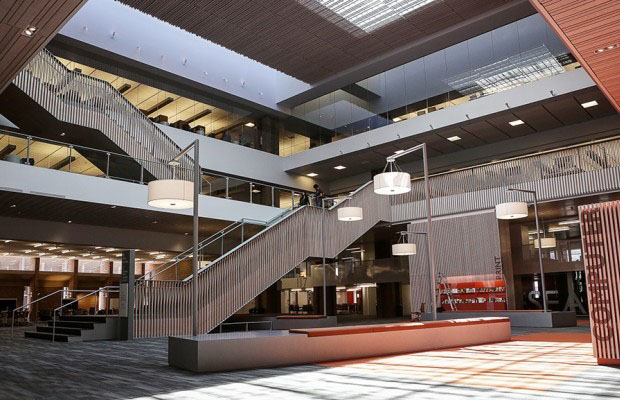 Following a year of construction, the UW opened a newly-renovated Odegaard Library earlier this summer.
After a $16 million renovation, the library is now equipped to serve students like never before.
Odegaard now has an integrated writing and research center, two new active learning classrooms, seven new group study rooms on the first floor, and an abundance of new technologies.
One of the biggest changes in the renovation was the removal of the main stairwell that was part of the library's original 1972 design. A new central atrium replaced the staircase in the center of Odegaard.
"We love the visibility of this," said Jill McKinstry, director of Odegaard. "During the day you're able to see the work that's going on. You can see other students meet with other students, and that's inspiring."
Sept. 2013 | Return to issue home
SUPPORT STUDENTS
Your gift to the Libraries can support student employee scholarships, student research awards, technology, digital initiatives and more.
---
Upcoming EVENTS
Oct. 20: Join us for Dawg Dash, a 5k run/walk and 10k run through campus.
Oct. 22: Writer, scholar and Graduate School Signature Speaker Junot Díaz will discuss his career and read from his latest book, This Is How You Lose Her.
Nov. 13: Amy Cuddy discusses body language and "power posing" in this Graduate School Public Lecture.
---
uw ALUMNI ASSOCIATION
This newsletter is produced in partnership with the UW Alumni Association to support UW Libraries and to keep you connected to the UW alumni community.
UWAA members enjoy great discounts, access to career services and lifelong learning opportunities and more. Do you love the UW? Then you've got to be a member! Join now.
---
CONNECT WITH US