June 2012
From the Dean
As the University of Washington and the Libraries come to a close of their 150th year, I can't help reflecting on the dramatic changes in technology over the last century and a half. With each new technological innovation – from manual typewriters to digital scanning and from the codex to electronic books – the Libraries has found new and innovative ways of fulfilling our mandate to preserve information and keep knowledge freely flowing. More...
---
In the Spotlight

Libraries: Transforming Spaces and Services
The Libraries partnered with the UW Provost's office to show how we meet our users' needs while creating efficiencies. Watch the video.

Husky Reels: Preserving Eighty Years of Husky Athletics
In 2009, Hannah Palin, Film Archives Specialist in Libraries Special Collections, was shown the contents of a storage room off Aisle 50 in Husky Stadium by then Communications Director, Richard Kilwein, from the Athletics Department. In this room that was open to wind and weather, she discovered boxes of film and stacks of videotape among piles of printed programs, gas-powered leaf blowers, and the remnants left by a family of raccoons. More...

UW Bothell Receives 150th Artwork
The University of Washington Bothell and Cascadia Community College Library hosted an event on May 17 to celebrate the 150th anniversary of the UW Libraries and to thank Norm and Louise Rose for their 150th gift of Alaskan and Pacific Northwest Native American Art to the University of Washington Bothell Library Rose Art Collection. The Rose Collection highlights the work of Alaskan and Pacific Northwest Native artists. More...

Facebook and Twitter
The Libraries posts breaking news and information on Facebook and Twitter. Join us and follow us on Facebook and Twitter!
---
Exhibits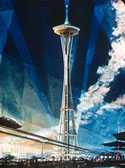 Century 21 Golden Anniversary
An exhibition celebrating the 50th anniversary of Century 21 will highlight the planning, design, promotion, and activities of the 1962 Seattle World's Fair.
Special Collections Lobby (Allen Library South basement) and Allen Library North 1st floor balcony
through July 31.