Oct. 2013 | Return to issue home
Sneak Preview a Resounding Success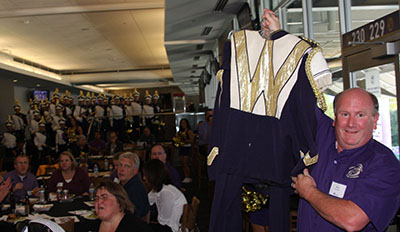 The 11th annual Husky Football Sneak Preview might not have been as much of a preview to the season as in the past, due to its move from August to September, but it was clearly the most successful!
The Sneak Preview, co-hosted by the Husky Band Foundation and the UWAA, helps raise money to supplement the band's operating budget. This year's goal was to raise $45,000 to help pay for the band's new uniforms. Event co-chairs Louis Figueroa and Michael Leone reported that the various auctions that evening not only helped meet the goal but actually exceeded it! It was also the best-attended Sneak Preview, with close to 300 Husky Band supporters in attendance.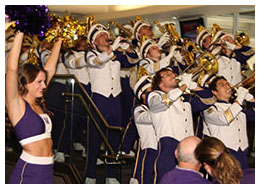 Those in attendance enjoyed hearing from Husky Football Head Coach Steve Sarkisian and UW President Michael K. Young, as well as King County Executive (and avid Husky Band fan) Dow Constantine. UWAA Executive Director Paul Rucker, new Husky Women's Basketball Coach Mike Neighbors, and legendary Husky football QB Damon Huard also spoke of their appreciation for hardworking students of the Husky Band. Many thanks to all of you who attended and who so generously contributed to the operational needs of the band—we hope to see you at the 2014 Sneak Preview!
Oct. 2013 | Return to issue home
SUPPORT the band
Join the Tequila Club and be a part of the Husky Band family! Learn more.
---
Upcoming EVENTS
Oct. 19: Can't make it to the ASU game? Find a viewing party near you!
Nov. 5-11: Veterans Appreciation Week celebrates UW vets with receptions and an on-field recognition during the Colorado game.
---
Love the UW?
Support the UW, stay connected and get great Husky benefits through the UWAA! If you love the UW, you'll love UWAA membership. Join now.
---
Contact Us
206-543-7383
band@uw.edu