Welcome to our Veterans Day 2012 homepage. Here you'll find information about the University of Washington's Veterans Day ceremony and reception, learn about Herb Bridge, and browse some of our stories that pay tribute to a few of these heroes.
On-campus Ceremony
The UW will host a Veterans Day ceremony and reception on Sunday, Nov. 11, 2012. The free event will take place at 11 a.m. at the Medal of Honor Memorial, and a reception will follow inside Kane Hall at 11:30. Learn more, and register for the Veterans Day ceremony.
Honoring Herb Bridge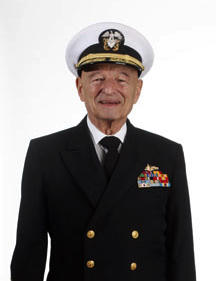 Herb Bridge, '47, is the first recipient of the new Distinguished Alumni Veteran Award.
The DAVA is given to a living UW alum who has served in the armed forces and who has made a positive impact on their community, the University of Washington, or veterans communities. Find out more about the DAVA Award.
Read more about Bridge in this story from Columns, the UW's alumni magazine. In addition to his naval service, Bridge founded the Seattle Housing Resources Group that builds low-cost housing, and has served on many boards including the Naval Academy Foundation and the USO Puget Sound Area. He and his son Jon are former co-chairs of the United Way campaign of King County.
Tributes to Our Veterans
Here is a sampling of stories written in recent years that honor our veterans and the service they've given to our country.
The Honoring Veterans Program
Husky Authentic is offering a limited edition line of patriotic Husky Gear. A portion of each purchase will go to the Wounded Warrior Project. Check out the "Huskies Honoring Veterans" gear online or at game day kiosks at CenturyLink Field at this Saturday's game vs. Utah.