Class Notes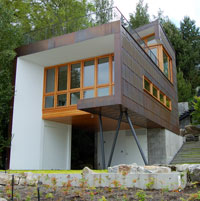 The Lake House on Mercer Island, designed by Hutchison & Maul
Hutchison & Maul Named 2009 'Emerging Voice'
Seattle-based Hutchison & Maul Architecture has been named a 2009 Emerging Voice by the Architectural League NY. Principals Robert Hutchison, MArch '96, and Tom Maul, MArch '96, will travel to New York this month to participate in the lecture series.
The Architectural League created the annual Emerging Voices lecture series in 1982 to recognize and encourage architects who are beginning to achieve prominence. The series focuses primarily on built work, at a variety of scales, and is structured to reflect the diversity of contemporary practice–geographically, stylistically and ideologically. Hutchison & Maul Architecture was founded by in 2001 by Hutchison and Maul, who are part-time faculty in CBE's Department of Architecture.
Past participants of the Emerging Voice award have included Bob Hull from The Miller/Hull Partnership, Tom Kundig from Olsen Sundburg Kundig Allen, and Steven Holl from Steven Holl Architects. For a more detailed list of past participants, information about the League and the Emerging Voices series, visit www.archleague.org.
Jones and Jones Awarded Neutra Medal
Grant Jones, BArch '62, and Ilze Jones, BArch '64, principals of Jones & Jones in Seattle, won the Richard Neutra Medal for Professional Excellence. Neutra, one of modernism's most important architects, pioneered the field of human behavior and the design of the built environment.
The Neutra Medal recognizes Grant Jones and Ilze Jones as environmental luminaries for their innovations in river planning, aesthetic science, context-sensitive highway design, green infrastructure, cultural landscapes, integration of architecture and landscape architecture, and the most recent Intrinsic Landscape Resources Information System.
The Neutra Medal honors those who have made influential contributions to the body of knowledge in environmental design. Notable past winners include Al Gore (Earth in the Balance); Ian McHarg, inventor of GIS; and Samual Mockbee, founder of Rural Studio.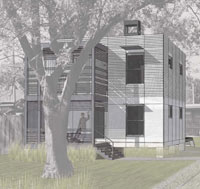 Winner of the 99k House competition
Seattle Team Wins Sustainable Design Competition
The Seattle team of Hybrid/Owen Richards Architects, which included CBE alumni Tom Mulica, MArch '05, and Kate Cudney, MArch '05, won the 2008 99k House Competition to design an affordable, sustainable house prototype in the Gulf Coast region.
Chosen among 184 entrants from 29 states and 16 countries, the Hybrid/ORA design features a highly flexible plan with a compact core and demountable partitions, allowing the house to adapt to the changing needs of its inhabitants. In addition to extensive green building features such as rainwater harvesting and natural ventilation, the design addresses sustainability on a broader conceptual level, allowing for increased density by placing two houses on one site and enabling ease of future conversion to duplex units.
The jurors, recognized leaders in sustainable residential design, included CBE Architecture Professor Michael Pyatok. The competition sought sustainable, innovative designs that could be built and sold for $99,000 or less. Learn more about the contest.
Steinbrueck Honored for Career Achievement
Peter Steinbrueck, MArch '88, was recognized for a lifetime contribution to historic preservation last year when he received Washington's State Historic Preservation Officers (SHPO) 2008 Career Achievement award.
The Washington state Department of Archaeology and Historic Preservation noted that Steinbrueck continued the family tradition of activism and agitation for struggling causes beginning at age 13 when he helped his father Victor in his eight-year effort to save Pike Place Market, and again in the early 1990s when an investment group threatened the market's autonomy. The award also cited his civic activism during 10 years on the Seattle City Council, during which his leadership "resulted in inventories of city-owned properties, neighborhoods and the recently completed survey and Landmark nomination plan for downtown."
In announcing the award, SHPO Officer Karen Gordon said "he (Steinbrueck) understands the long and short-term policy implications of proposals on historic preservation and good urban design and works to ensure that those factors are primary, not secondary, in consideration of any policy changes."
Architecture Student Wins Bonderman Fellowship
Architectural Studies junior Brianna Craft was one of five 2008 winners of the $20,000 Bonderman Travel Fellowship. Craft is spending her year abroad studying the science of climate change in Central America, Brazil, the Pacific Islands, India, China and Russia to discover how the world feels about the imminent impacts of global warming. Upon her return, she hopes to use these shared experiences to move the United States toward a sustainable future for all the world's people.
Kim Receives Young Architects Award
Grace Kim, MArch '06, co-founder of Schemata Workshop in Seattle, was one of 10 recipients of the 2008 American Institute of Architects (AIA) Young Architects Award. Kim was recognized for her work in mentorship and internship, which are also the focus of her book, The Survival Guide to Architectural Internship and Career Development. In announcing the award, the AIA noted Kim's work on various AIA committees, her mentorship of a disadvantaged Chicago teen for the past 15 years, and her long-term participation in Expanding Your Horizons, a conference to foster an interest among teenage girls for professions in math and science.
The Lake House photo courtesy of Hutchison & Maul