Steven Holl wins BBVA Frontiers of Knowledge Award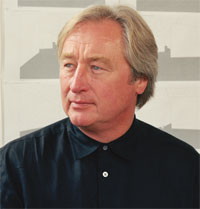 Steven Holl
New York architect Steven Holl, BArch '71, won the first Arts award in the prestigious BBVA Foundation Frontiers of Knowledge Awards, which recognize and encourage world-class research. Organized in partnership with Spain's National Research Council (CSIC), the awards encompass eight categories with a cash prize of 400,000 euros each (about $500,000 USD), a monetary amount and scope second only to the Nobel Prize.
The BBVA Arts award honors creative work of excellence in areas that help forge the culture and identity of a given era in architecture, contemporary classical music, painting or sculpture. Born in Bremerton, Wash., in 1947, Holl is known for his humanistic approach to architectural design.
"I believe the relationship of all the arts becomes especially patent in architecture, and it is in architecture that it finds its fullest expression," Holl said after learning of the award. "… As a professor of architecture I consider myself highly honored to receive an award that lays such importance on the interrelation of the arts," he said.
Holl is a professor in Columbia University's Graduate School of Architecture, where he teaches a course on the Architectonics of Music. After receiving his bachelor's in architecture from UW, he completed studies in Rome and London before settling in New York, where he made a name for himself with his work on family housing and experimental designs.
Holl has worked in the United States, Europe and in the Far East, especially Japan. Among his most celebrated projects, which stand out for their respect for the building's historical and cultural context, are the Nelson-Atkins Museum of Art in Kansas, the Chapel of St. Ignatius at Seattle Universit, his addition to the Cranbrook Institute of Science in Michigan, the Kiasma Contemporary Art Museum in Helsinki, Finland, and the Makuhari residential complex in Japan. He currently runs two studios, in New York and Beijing, where he is working on the "Linked Hybrid" project, which occupies a site of 220,000 square kilometers (84.9 square miles) in the vicinity of the Forbidden City.
The jury singled out the balance that Holl achieves between a vanguard vocation and concern for social and environmental fundamentals and cited his work's "igorous discipline and consistency" over the past 30 years, along with "the international impact of his work, his visibility in distinct cultural forums and his presence in prestigious academic circles."
Learn more about BBVA Foundation.
Photo courtesy Mark Heitoff