Olson Sundberg Kundig Allen Wins AIA Firm Award
Olson Sundberg Kundig Allen Architects received the American Institute of Architects 2009 AIA Architecture Firm Award, an honor that recognizes the firm's 35 years of consistently excellent work that features a seamless blending of architecture, art and craft; community involvement; attention to sustainable design and nurturing of in-house talent.
OSKA owners Jim Olson, BArch '66, FAIA; Rick Sundberg, BArch '66, FAIA; Tom Kundig, BA Environmental Design '77; MArch '81, FAIA; Scott Allen, BA, Environmental Design '80, AIA, Kirsten Murray, AIA and Alan Maskin, MArch '88, are known for their hands-on project involvement; deliberate efforts to share their knowledge with firm members, students, interns, and clients; and intense collaboration with artists and crafters.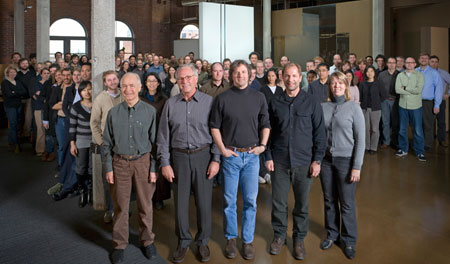 Members of OSKA Architects
"One of the strengths of the firm is our resourcefulness and clarity of purpose; understanding where we are and where we're going, and not resting on any sort of past successes," Kundig said after learning about receiving the AIA's highest honor in December. "There has always been a culture here of looking forward to different realms and different risks."
The firm's commitment to sustainable design finds its roots in the firm Olson founded in Seattle in 1971, which he based on two principles: buildings can serve as a bridge between nature and culture, and inspiring surroundings have a positive effect on people's lives. Carrying that concept into the firm, the principals remain committed to a democratic and populist office culture.
Known primarily for their integration of Modern forms that blend artfully into remote, natural settings of the Pacific Northwest, the firm's work is also adept at creating dynamic urban environments.
In their new construction and renovation projects, Olson Sundberg Kundig Allen peel back and strip away layers of materiality to tell richly evocative stories of site context, history, and use. They relish getting their hands dirty with the physical work of material composition, and communicate this passion freely through the rich textures they manipulate: reclaimed wood, steel, concrete.
"Their work consistently demonstrates that effective architectural composition, like effective speech, always navigates a variable proportion between practical and poetic reasoning," said CBE Dean Daniel S. Friedman.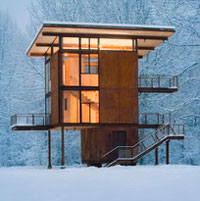 The Delta Shelter
Among more than 65 regional and national awards winners designed by Olson Sundberg Kundig Allen Architects are:
The Delta Shelter, Washington State, 2008 AIA National Honor Award
The Brain, Seattle, 2004 AIA National Honor Award
Chicken Point Cabin, Northern Idaho, 2003 AIA Northwest Region Honor Award
Frye Art Museum, Seattle, 1997 AIA Seattle Honor Award
Pike & Virginia Building, Seattle, 1979 AIA Seattle Honor Award
Olson Sundberg Kundig Allen Architects was presented with the award during the American Architectural Foundation's Accent on Architecture Gala in February. Given annually, the AIA Architecture Firm Award is the highest honor the AIA bestows on an architecture firm and recognizes a practice that consistently produced distinguished architecture for at least 10 years.
Previous recipients include Leers Weinzapfel, Moore Ruble Yudell, Murphy/Jahn, and KieranTimberlake. In recognition of Olson Sundberg Kundig Allen Architects' legacy to architecture, the firm's name will be chiseled into the granite Wall of Honor in the lobby of the AIA headquarters in Washington, D.C.
Photos by Tim Bies/Olson Sundberg Kundig Allen Architects