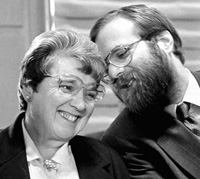 Courtesy of the Allen Library
Faye G. Allen, '50, mother of UW philanthropist Paul Allen and widow of Kenneth S. Allen, longtime deputy director of the UW library system, died June 2. She was 90.
A book lover of the first order, Allen earned money for college working at university libraries and married Kenneth Allen, who served as director of UW libraries from 1960-82 and is the namesake for Allen Library. The Henry Art Gallery, meanwhile, has the Faye G. Allen Center for the Visual Arts and the Seattle Central Public Library is home to the Faye G. Allen Children's Center.
Allen lived in a home on the Mercer Island estate of her son, Microsoft co-founder Paul Allen, that had room for 15,000 books. The Seattle Times reported that she catalogued all of the books on computer according to the Library of Congress System.
Faye Allen taught fourth grade and instilled such a love of books into her students that they returned many years later to thank her, family and friends said. Paul Allen said the fact that she developed Alzheimer's disease led him to start the Allen Institute for Brain Science in 2003.—Julie Garner