University Of Washington
Featured Story Slideshow
Be Boundless — For Washington, For the World
Transform the student experience
Ensuring access to excellence for all students is at the core of our public mission. Discover how supporting opportunities that enrich future leaders can champion the Husky Experience for students
like Anthony Martinez.
Be Boundless — For Washington, For the World
Drive the public good
Our foundation is rooted in serving communities near and far. Explore how committing to initiatives that promote health, equity and well-being can unleash human potential in King County's Road Map region — and beyond.
Be Boundless — For Washington, For the World
Expand our impact everywhere
Unearthing solutions to tomorrow's grand challenges is what drives us. The Institute for Stem Cell & Regenerative Medicine is one example of how investing in UW faculty and research can change – and save – lives worldwide.
Be Boundless — For Washington, For the World
Empower possibility through innovation
Creativity is embedded in our DNA. Learn how contributing to revolutionary people and programs can lead to inclusive innovation for the benefit of Jayna – and millions more.
Population Health Initiative receives
transformative gift
The UW's vision for improving the health of people worldwide is accelerating thanks to support from the Gates Foundation.
News & Events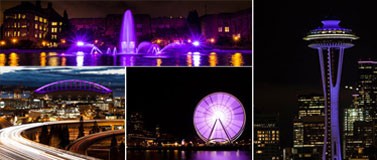 Purple Pride
'Together' celebrates UW's past, future; purple reigns in Seattle
Thousands turned out in support of the UW's public launch of its most ambitious philanthropic campaign featuring a spirited evening of music, movement and live performances. Meanwhile, campus and many of Seattle's iconic landmarks and buildings lit up with Purple Pride.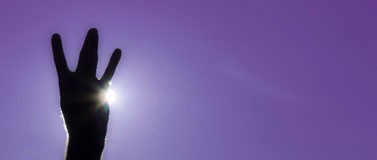 News
UW launches historic $5 billion philanthropic campaign
The campaign focuses on four key priorities: Transforming the student experience, expanding the impact of the UW's research, empowering possibility through innovation and driving the public good.
Fast Facts
Public service @ the UW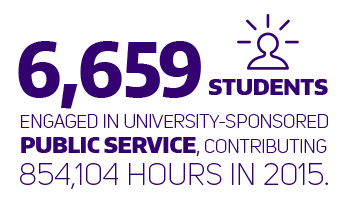 Did you know?