McNair Scholars
Annual Gabriel E. Gallardo Symposium
The Gabriel E. Gallardo Research, Student Leadership & Advocacy Symposium will be held April 18th-20th, 2022!
The University of Washington's Office of Minority Affairs & Diversity (UW OMA&D) looks forward to hosting the 2nd annual Gabriel E. Gallardo Research, Student Leadership & Advocacy Symposium (GEG Symposium).  Our 2022 Symposium will be held in person on the University of Washington campus.
This symposium provides an amazing opportunity for undergraduate researchers to meet other scholars and to share their research in a unique, exciting and supportive environment. For all undergraduates, regardless of research participation, it is a chance to learn about the power of student research, leadership, and advocacy. For staff members, it is also an opportunity to spend time networking with and learning alongside colleagues. The GEG Symposium is brought to you by the following UW OMA&D Programs: the TRIO McNair Scholars Program, TRIO-SSS, CAMP, and the Health Services Center Minority Students Program (HSCMSP).
We look forward to hosting students who participate in TRIO McNair, TRIO Student Support Services, College Assistance Migrant Program (CAMP), UW Health Sciences Center for Minority Student Participation (HSCMSP), Louis Stokes Alliance for Minority Participants (LSAMP), UW EOP Scholars, UW Educational Opportunity Program (EOP) and Mellon Mays Undergraduate Fellowship.
Students will have the opportunity to participate in the following:
Present on their research in a supportive learning environment and receive feedback from trained faculty and professionals.

 

Participate in workshops focused on graduate school preparation, student leadership, and advocacy.

 

Attend a graduate fair and talk with recruiters representing programs nationally as well as here at the University of Washington.

Learn about applying to graduate school from UW faculty, staff, graduate students, and alumni.

 

Talk to graduate students about what life is like in grad school.

 

Network with faculty, graduate students, and other undergraduate researchers, leaders, and advocates.

 
This symposium builds on UW McNair's 29-year legacy of hosting a Pacific Northwest Undergraduate Research Conference to honor the legacy of Dr. Gabriel E. Gallardo who passed away in 2020 after a lifetime of service to educational equity, particularly on behalf on TRIO McNair, TRIO-SSS, and CAMP students.
---
Thank you to all of the McNair, Student Support Services, LSAMP, and MMUF Scholars who attended our previous Research Conferences!
2019 Conference

2018 Conference

2017 Conference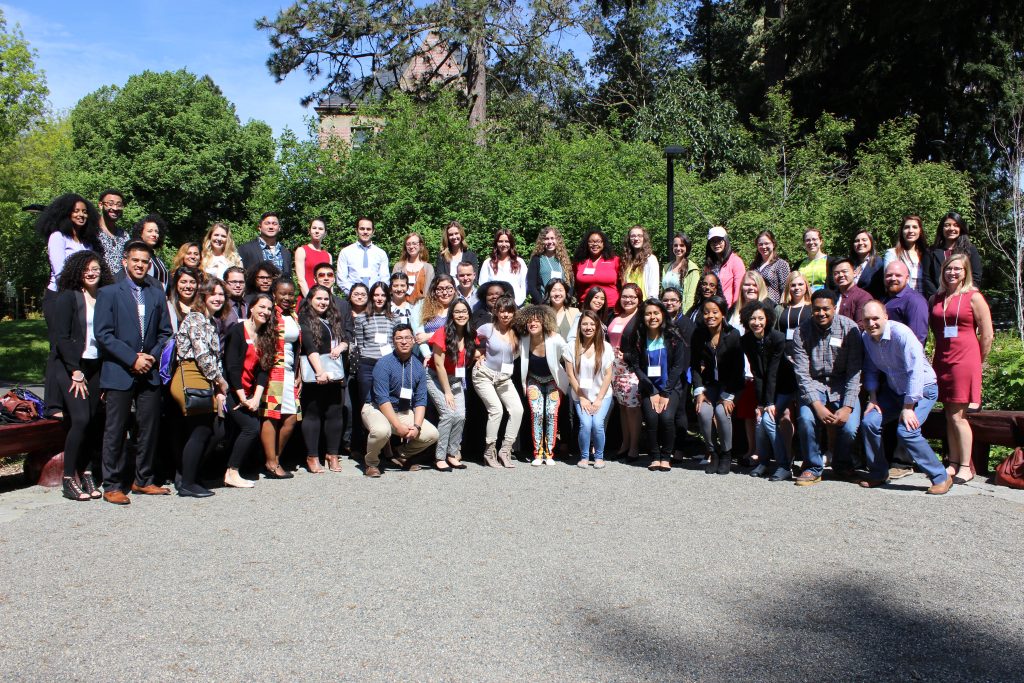 2016 Conference