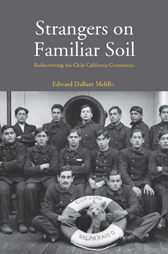 Strangers on Familiar Soil: Rediscovering the Chile-California Connection

CSPN Lecture by Edward D. Melillo
---
Monday, April 4, 2016
4:00 PM, UW Communications Building (CMU) Room 226
Free and open to the public.
In this talk Professor Melillo will discuss the transnational movement of people, ideas, and species between Chile and California across two centuries. During the gold rush, eight thousand Chileans arrived in California seeking new opportunities. In the process, Chilean mining and agricultural techniques spread around the world. Chilean wheat supplied Californian markets, and Chilean sodium nitrate fertilizer fueled California's citrus bonanza. Subsequently, Californian species, labor systems, educational programs, and capitalist development strategies dramatically affected the history of Chile, altering the flora and fauna, uprooting indigenous communities, and establishing new forms of corporate agriculture.
Edward D. Melillo is Associate Professor of history and environmental studies at Amherst College. He teaches courses on global environmental history, the history of the Pacific World, and commodities in world historical perspective.
Sponsored by the Center for the Study of the Pacific Northwest and Latin American and Caribbean Studies at the University of Washington.