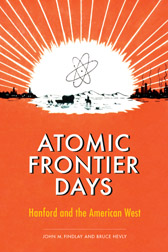 Atomic Frontier Days: Hanford and the American West



Sick Lecture by John M. Findlay and Bruce Hevly
---
Tuesday, November 15, 2011
4:00 pm, Petersen Room, Allen Library, University of Washington
Free and open to the public. Reception to follow.
On the banks of the Pacific Northwest's greatest river lies the Hanford nuclear reservation, an industrial site that appears to be at odds with the surrounding vineyards and desert. The 586-square-mile compound on the Columbia River is known both for its origins as part of the Manhattan Project and for the monumental effort now under way to clean up forty-five years of waste from manufacturing plutonium for nuclear weapons. Hanford routinely makes the news, as scientists, litigants, administrators, and politicians argue over its past and its future.

It is easy to think about Hanford as an expression of federal power, a place apart from humanity and nature, but that view distorts its history. Atomic Frontier Days looks through a wider lens, telling a complex story of production, community building, politics, and environmental sensibilities. In brilliantly structured parallel stories, the authors bridge the divisions that accompany Hanford's headlines and offer perspective on today's controversies. Influenced as much by regional culture, economics, and politics as by war, diplomacy, and environmentalism, Hanford and the Tri-Cities of Richland, Pasco, and Kennewick illuminate the history of the modern American West.

This lecture is the thirteenth in a series and is sponsored by the Department of History, the University of Washington Libraries, and the University of Washington Press with the support of the Emil and Kathleen Sick Endowment Fund. The Fund also supported publication of Atomic Frontier Days. John M Findlay is porfessor of history at the Universtiy of Washington. Bruce Hevly is an associate professor of history at the University of Washington.
Sponsored by the Center for the Study of the Pacific Northwest, the University of Washington Libraries, and the University of Washington Press.