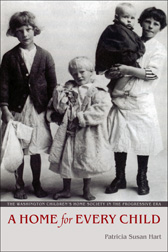 A Home for Every Child: The Washington Children's Home Society in the Progressive Era
Sick Lecture by Patricia Susan Hart
---
November 9, 2010
4:00 pm, Petersen Room, Allen Library, University of Washington
Free and open to the public. Reception to follow.
Adoption has been a politically charged subject since the Progressive Era, when it first became an established part of child welfare reform over one hundred years ago. In A Home for Every Child, Patricia Susan Hart looks at how, when, and why modern adoption practices became a part of child welfare policy.

The Washington Children's Home Society (now the Children's Home Society of Washington) was founded in 1896 specifically to place children into adoptive and foster homes as a way to deal with child abuse, neglect, and homelessness. Records from the Society's archives tell the stories of birth parents and why they relinquished children to the Society, revealing how difficult it was for some people to live in the West at the end of the nineteenth century.

With access to case files and other archival documents from the early years of the Society, the author learned why some parents relinquished their children and others adopted them. These sources show how adoptive parents embraced their new family members and introduced them to their communities. The children themselves tell how they adjusted to their new homes among strangers.

Debates about nature versus nurture, fears about immigration, and anxieties about race and class division all informed those who determined the policy on child welfare during the Progressive Era. Hart sheds new light on the social, cultural, and political factors that affected adopted children, their parents, and those who administered dozens of pioneering institutions like the Washington Children's Home Society.

Patricia Susan Hart is associate professor of journalism and American studies at the University of Idaho.
Sponsored by the Center for the Study of the Pacific Northwest, the University of Washington Libraries, and the University of Washington Press.