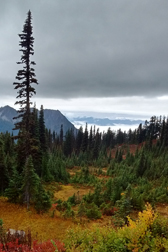 Annual Cascadia Environmental History Collaborative Retreat
---
Thursday, September 22, 2016 - Sunday, September 25, 2016
Location: UW Pack Forest Research Station
Professors Linda Nash (University of Washington) and Marsha Weisiger (University of Oregon) co-founded the Cascadia Environmental History Collaborative (CEHC) in 2014. The group consists of graduate students and faculty from across the Pacific Northwest, including Oregon, Washington, and British Columbia. The CEHC retreat offers the opportunity to workshop papers and presentations, develop collaborations, and make connections with like-minded scholars in a relaxed, informal atmosphere.
Last year, in addition to paper workshops, the program included a screening of the film, "DamNation," a discussion of books useful in teaching environmental history, an "Anthropocene Slam: Cabinet of Curiosities" roundtable, and a soggy but relaxing hike in Mount Rainier National Park.
For more background on the CEHC retreat and retreating more generally see, "Practicing in Place: The Environmental History Retreat" by Hayley Brazier, a PhD student at the University of Oregon and member of CEHC.
Sponsored by the Center for the Study of the Pacific Northwest.