Time Schedule
Time Schedule Legend
How to Read the Time Schedule
The information in the Time Schedule is presented as follows. Click any field for an explanation.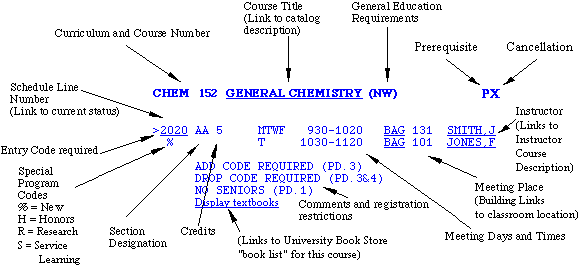 Curriculum Abbreviation (CHEM)
The abbreviation of the curriculum.
Course Number (152)
The course number. Courses numbered 100 to 299 are considered "lower division" and are generally suited for freshmen and sophomores. Courses numbered 300 to 499 are "upper division," generally for juniors and seniors. Courses numbered 500 or higher are primarily intendedfor graduate students.
Course Title (GENERAL CHEMISTRY)
The title of the course. Click the title to display the course's description from the Course Catalog.
Prerequisite (P)
Registration into this course requires successful completion of prerequisite(s). Click on the course title to display the course's prerequisites from the Course Catalog.
Cancellation (X)
This course will be dropped from your preregistration schedule if you do not successfully complete the course prerequisite.
General Education Requirement (NW)
The General Education requirements that this course applies towards:
VLPA - Visual, Literary, and Performing Arts
I&S - Individuals and Societies
NW - Natural World
QSR - Quantitative and Symbolic Reasoning
C - English Composition
Entry Code Designation (>)
If present, enrollment is limited; course requires Add Code or Faculty Number to add.
Schedule Line Number (2020)
Four digit number that uniquely identifies a section, used when adding or dropping a course. Click on the Schedule Line Number to display the current status of this section.
Section ID (AA)
Letter uniquely identifying a section of a course for this quarter.
Course Credits (5)
The number of credits this section is offered for, or the range.
"2.5" = 2 1/2 credits
"3/5" = 3 or 5 credits
"3-5" = 3 to 5 credits
"VAR" = any whole number of credits from 1 to 25 allowed
Meeting Time (MTWF 930-1020)
Days of the week and times of the day the course meets. May change without notice.
"ARR" = To be arranged.
Place of meeting (BAG 131)
The abbreviation of the building, and the room number where this class meeting will take place. Check the Guide to Classroom Locations to find the classrooms on the campus map.
"* *" = To be arranged.
Instructor (SMITH, J)
Name of the course instructor. May change without notice.
Special Program Codes (%)
Courses added to the curriculum after the last General Catalog was printed are marked with "%".
Honors sections are marked with "H".
Research sections are marked with "R".
Service Learning sections are marked with "S".
Comments and Registration Restrictions
Enrollment restrictions and other important comments. Some common abbreviations:
"PD.1 PD.2 PD.3 " = Registration Period 1, 2, 3
"PERM OF INSTR" = Permission of Instructor
"EC" "DC" = Entry Code or Drop Code, followed by the building and room where they can be obtained
Display Textbooks
Links to the University of Washington Book Store. Displays required and optional textbooks for this course.