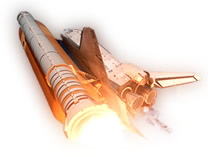 Watch NASA TV on uw2.tv channel 76 every weekday from 9 AM to 5 PM PT, and additional times TBA during launches and missions. See the NASA Daily Schedule for program schedules.
Webcasts of live launches and missions, as well as archived webcasts, can be
viewed on your computer via the Internet. Check out multimedia options
for more details. Also visit the NASA home page for information on current
and future launches.
Many cable television companies throughout the United States provide a channel for coverage during missions. If you are unable to find NASA TV on your cable television system, you may want to contact your service provider and send them a letter to request NASA TV be broadcast in your area. A sample letter is provided here for your use.
Notice to Viewers: While the University of Washington is pleased to provide NASA programming unaltered, uw2.tv is not responsible for technical difficulties which may occur and is not authorized to interrupt broadcasts. Please contact NASA TV for viewing problems.
---
ISS Spacewalks

Expedition 24 is preparing for 3 spacewalks. All EVAs are expected to last approximately 6 hours as the crew focuses on data cable installation and camera replacement/relocation, as well as replacement of a coolant pump. The first spacewalk is planned for the end of July, with two more in early August. More information on these missions can be found at the ISS website.
Be sure to join uw2.tv for additional coverage of these events. All times Pacific.

Monday, July 26 — 6:00pm - 12:00am
Tuesday, July 27 — 12:00am - 6:00am
Saturday, August 7 — 12:00am - 12:00pm
Wednesday, August 11 — 12:00am - 9:00am




Schedule Subject to Change
---
Discovery STS-133

The crew of STS-133 is targeted to lift off early November. This will be one of the final missions of the space shuttle program. Check out the Space Shuttle website for more information.
We hope you'll join uw2.tv for additional coverage of this mission. Please check back as further updates become available. All times Pacific.

Monday, November 1 — TBD



Schedule Subject to Change
---