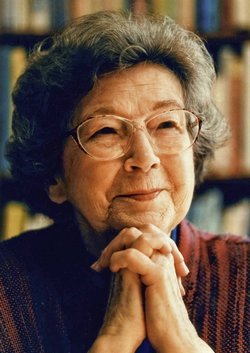 "The stories I write are the stories I wanted to read as a child."



Beverly Cleary
Beverly Cleary, one of the nation's most beloved children's authors, has been named the UW's Alumna Summa Laude Dignata -- the highest honor conferred by the UW upon its graduates. For more than half a century, Cleary has been publishing books distinguished by her remarkable ability to see the world through a child's eyes. Her signature characters, including Henry Huggins, Ramona Quimby and Ralph S. Mouse, have a permanent place in the American imagination.
Cleary was born Beverly Bunn in McMinnville, Ore., and raised in Portland. Her first-grade year was formative. She didn't like reading and writing: The rules made no sense to her, the required texts were tedious and the teacher was cruel -- all struggles that would later be faced by Cleary's fictional avatar, Ramona Quimby. She later made peace with reading when she realized that exciting things could happen in books.
Cleary earned a B.A. in English from the University of California, Berkeley, in 1938 and another in library and information science from the UW in 1939. After graduating, she married Clarence Cleary and took positions in libraries in Yakima and Oakland, Calif. In 1949, at Clarence's encouragement, she moved an old kitchen table into a little-used room in their house and began writing. Her first children's book, Henry Huggins, was published the next year. Dozens more would follow. Cleary strove to make each story exciting but also true to life, to depict childhood as it is actually experienced by children -- with all its triumphs, injustices and ambiguities. "The stories I write," she has said, "are the stories I wanted to read as a child."
Cleary has received many honors. Ramona Quimby, Age 8 and Ramona and Her Father were named Newbery Honor books in 1978 and 1982, respectively. In 1984, Cleary received the Newbery Medal for Dear Mr. Henshaw. Other honors include the Laura Ingalls Wilder Award and the National Medal of Art from the National Endowment for the Arts.
Cleary has been a generous benefactor of the Information School, supporting the Beverly Cleary Professorship in the field of children and youth services. She lives in Carmel, Calif.