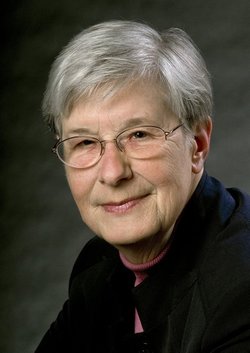 "You know, different people are addicted to different things -- I'm just addicted to democracy. I think it's in the DNA -- I don't think I have a choice."



Nancy Amidei
Nancy Amidei has been called a "relentless advocate for changing public policy to better serve the most vulnerable populations." No wonder, then, that Amidei, senior lecturer in the School of Social Work and project director of the Civic Engagement Project, is this year's recipient of the UW's Outstanding Public Service Award.
If you ask Amidei what motivates her passion for social justice, she will tell you, "You know, different people are addicted to different things -- I'm just addicted to democracy. I think it's in the DNA -- I don't think I have a choice."
Amidei, the daughter of Italian immigrants, grew up in Northern Illinois, where there were lots of immigrants "who just felt passionate about the fact that in this country you can have a voice, you can speak up, you can be involved -- it meant so much to them to be a part of this country. So, from the time I was little, I was listening to conversations about candidates, elections and voting."
But it was Amidei's father who asked the pivotal question that would lay the foundation for her lifelong passion for justice. As a child, she listened to her father's stories of his life.
"My dad would tell me stories about what it was like in the old days, when he was a young immigrant, what it was like to be treated like somebody that people didn't want to be around, because there was a lot of anti-Italian discrimination," Amidei said. "Most people don't know it but the lynchings in the South were not only of African Americans, but also of Italian Americans and other people with 'swarthy' skin.
"At the end of the stories, he would say, 'Was that justice? Was that humane -- that the little man should have nothing and the big man should have everything? Was there no one to speak up for the little man?'"
Amidei has spent her career speaking up for the poor and disenfranchised. She joined the School of Social Work in 1992 to teach policy courses. Prior to joining the UW faculty, she had served as deputy assistant secretary for legislation in the Department of Health, Education and Welfare, staff director of the U.S. Senate Selection Committee on Nutrition and Human Needs, and executive director of the Food Research and Action Center. She translated her policy expertise into a range of activities to meet the needs of vulnerable populations in Washington state, including the U District-University Partnership for Youth, an initiative for homeless youth.
"She embodies public service in all she does, whether teaching students to be engaged citizens, lecturing about community service and change to well over 100 groups annually, or writing prolifically about ways to influence the legislative and policy-making process to meet community and statewide needs," said School of Social Work Dean Edwina Uehara, Dean Emerita Nancy Hooyman and Professor Dorothy Van Soest in their joint recommendation of Amidei for the Outstanding Public Service Award.
Amidei believes strongly in participatory democracy and civic engagement. She believes each person can change the political landscape, even when it's rocky and presents obstacles.
"One day one of my students asked me, 'How come you don't get discouraged?'"
I told her, 'When I graduated from college in 1963, there was no Medicare, there was no Medicaid, there were hardly any women in sports because there was no Title IX, and there was no Title IX because there was no Civil Rights Act... there was no elementary and secondary education act, there was no Head Start, there were no legal services for low-income people, there was no WIC program, there was no food stamp program.'" She added that there also were very few women in Congress, law and medicine in 1963.
"Changes were made not because the guys in Congress decided on their own to change, but because people like us called up, spoke up, wrote up and voted up... until the guys in Congress said OK. If enough of us make noise, we can outnumber the people writing the big checks."
As Amidei gets ready to retire from her teaching position this year, she leaves us with these words: "Use your voice, be an advocate for the things you care about." You can be sure she will.