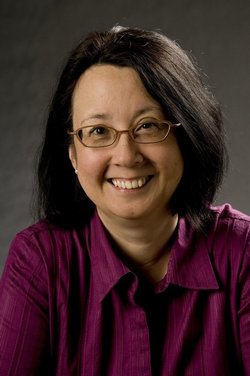 "I chose this subject because I knew it was covered in many K-12 curricula, and that teachers would appreciate access to this material. Even so, I was surprised at how many people accessed this site."



Theresa Mudrock
At a crucial point in time, Theresa Mudrock listened to her body and found the vocation that was her destiny. After receiving a graduate degree at the UW in international studies, she began the doctoral program in history. But something was wrong. "I was physically unwell," she says. "My body was telling me I was in the wrong place."
She recalled a conversation she had had years earlier, while working in a book store with Gordon Aamot, now head of the Foster Business Library, who remarked, "You should consider library school." Seven years later, she finally took his advice and found her professional calling.
After a number of fortuitous events, she became the librarian assigned to the History Department, considered a plum job because the department's faculty are inveterate users of the libraries' resources. As history librarian, she ensures that the department's faculty and students succeed academically -- by building a library collection that meets the teaching and research needs of the department, instructing students and faculty in how to access research materials, and serving as an advocate for the department within the libraries.
Lynn Thomas, associate professor, makes a point of meeting with Mudrock several months before teaching her undergraduate research seminars. "I always leave these meetings with new ideas about how to stage the assignments and what library resources might work best for students," she says. Students also meet at least once a quarter with Mudrock to learn about advanced research techniques. Thomas calls Mudrock's teaching style "practical and highly effective."
Like all teachers, Mudrock strives to engage her students. In teaching a research methods course offered jointly by history and the Information School, she learned that assigning students to prepare annotated bibliographies was both unhip and boring. So she developed the novel approach of picking a year -- in the first class, it was 1918 -- inventing a cast of characters and assigning one to each student, with their fates determined by a roll of the dice. One might be a young man destined either for the infantry in France or as an Air Corps pilot, whose ultimate fate was as a war casualty or as a long-lived veteran. Students would write letters or diary entries describing the life of their fictional character, based on their research. The mix of role-play, gaming, research and creativity engaged students in the research process, and -- the class was a huge success.
"Theresa's publications and presentations in this endeavor garnered widespread interest in her approach to integrating information literacy into historical research," says Nancy Huling, head of the reference and research services division of the Libraries.
Mudrock became intrigued by the potential of the Web as a vehicle to broaden access to specialized library material. Her first venture in a historical Web site, in 1995, focused on Camp Harmony, a temporary "assembly center" for Japanese Americans who were forced from their homes and into relocation camps during World War II. The Web site provided users worldwide access to unique material held at the UW Libraries, including children's letters, photographs, the camp newspaper and other material.
"I chose this subject because I knew it was covered in many K-12 curricula, and that teachers would appreciate access to this material," she says. "Even so, I was surprised at how many people accessed this site."
Later Mudrock began to research what happened to the more than 400 Nikkei students on campus in 1941-42. "What I found was that many faculty and administrators were doing wonderful things, helping many students," she says. She told the story of this little-known period in UW history via the web exhibit, Interrupted Lives. Eventually the story of the University became the story of the students as she and others began to trace all 449 Nikkei students.
Mudrock's work triggered two stories in Columns magazine and a resolution by the Board of Regents to grant honorary bachelor's degrees to students affected by the relocation order. A ceremony on May 18 formally awarded these degrees.
The ceremony, "The Long Journey Home: Honoring UW Nikkei Students of 1941-1942," was a collaborative effort of many departments and volunteers.
"It's been a great privilege to work with everyone on this," Mudrock says.