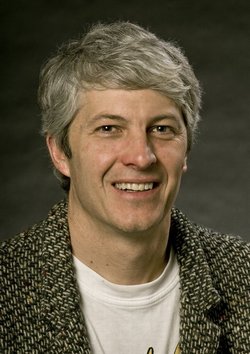 "I want my students to get personally engaged with their projects, so they get a sense of excitement out of even a beginning class."



Jamie Walker
It's tempting to think of a beginning art class as a place to learn basic technique and not think too much about self expression, but Art Professor Jamie Walker doesn't see it that way. "In a beginning class, the skill level is never going to be that high," he says, "but one of my goals is that by the end of the quarter students should have work that is their work, rather than just a bunch of anonymous pots."
And that attitude is one of the reasons that Walker, who teaches ceramics, has won a Distinguished Teaching Award. "I want my students to get personally engaged with their projects," he says, "so they get a sense of excitement out of even a beginning class."
It was that sense of excitement that drew Walker himself to art. He was in high school, he says, when his brother arrived home from college one day and found him watching TV. Disgusted, he told Walker to get off the sofa and do something meaningful with his life. That translated into a lesson on the family's pottery wheel and an introduction to a high school teacher who also happened to be a gifted artist.
"Then I found that art was something I was willing to spend a lot of time at, and it helped focus me in ways that other things weren't able to," Walker says.
He came to the UW intending to major in history while continuing his art as an avocation. But he found mentors in the School of Art -- Howard Kottler, Patti Warashina and especially Bob Sperry. "They were adults, they had real lives and they were very interesting artists," he says of them. "At a certain point I looked at them, and their example gave me the encouragement to pursue my true passion."
He wound up with a double major in art and history, then went on to the Rhode Island School of Design for a Master of Fine Arts. He spent six years as an independent artist and began teaching in California before returning to the UW as a faculty member in 1989. Since then, he's devoted himself to students, while continuing his own work.
Judi Clark, the School of Art's director of academic advising, writes, "I have spent 17 years listening to students express their admiration and respect for [Walker]. I wish that each of these students was here to tell the story of how Prof. Walker's teaching, mentoring and friendship changed their lives forever."
According to Walker, some of the biggest changes have come through a program he began, called the Studio Art Program in Rome. In 1993 the University had invited applications from departments that wanted to start programs in Rome, Walker explains, and it was his idea to create an interdisciplinary studio program. Since 1994 art students have been making the trip, working in the UW studios at the Palazzo Pio and spending a quarter exploring Rome. Walker is the director of the program and is often the faculty member who goes on the trip.
"It is great from a teaching standpoint," he says. "Students are away from what they're comfortable with and they're focused on their courses and their artwork. So you see a level of development that is a giant leap in a couple of months -- much more than in Seattle."
Walker didn't rest on his laurels after the Rome program. In 1995 he recognized a need for a freshman level class that introduced students to contemporary issues in the world of visual arts and design, so he developed Art 120: Issues and Influences, which he taught for 10 years. And right now, he and his colleagues in ceramics, sculpture, public art and glass, are starting a new collaborative program, 3D4M, in which they are co-teaching and sharing resources. They're trying, he says, to better reflect what's going on in the contemporary art world, where things aren't media specific anymore.
"My biggest fear is that I'll become bored with teaching," Walker says. "I've kept that from happening by trying new things."
His students are grateful for that. As graduate student Evan Blackwell writes, "Jamie is gifted in that he knows how to meet students halfway and customize their learning experience in ways that change the trajectory of their lives."