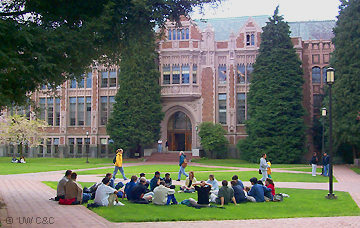 The University of Washington is ready to reinvent the way it prepares teachers. Despite decades of dramatic social, cultural, economic, and intellectual changes, teacher preparation looks remarkably like it did fifty years ago. Yet we have learned a great deal from research about the dynamics of schools, classrooms and communities, learning, and what teachers need to understand and be able to do. We know also that teachers benefit from opportunities to integrate theory and research with clinical practice. Further, they must continue to learn across their careers, drawing from new knowledge and adapting to their ever-changing socially and culturally diverse classrooms. Teachers need support to continue learning after they graduate.

The University of Washington proposes to undertake all of these: redesign curriculum, expand contexts for learning, extend support to teachers beyond graduation, and then to evaluate results. To do this demands a restructuring of the leadership of teacher preparation, moving it from the exclusive domain of the College of Education to a University entity, the Washington Center for Teaching and Learning.

To view the proposal in its entirety (in Acrobat Reader format), or to view any of the appendices, click on the appropriate title from the list below.