February 2009
Distinguished Alumni Sought
What UW Bothell alumni do you admire most? Tell us! Nominate them for the UW Bothell Distinguished Alumni Award. This award recognizes outstanding alumni who have exhibited distinguished achievements and/or service in their professional field or community since graduation and is the highest alumni award given by the UW Bothell. Get additional details and nominate someone today! Nomination deadline is March 2.
---
Campus Updates
Former Starbucks CEO Donald
Named Executive-in Residence
Jim Donald, former CEO of Starbucks, has been named Executive-in-Residence for the Business Program. In this position, he will provide valuable insight and mentoring to current students and faculty. He will also support the program through lectures on topics ranging from leadership and business strategy to the all-important "What They Don't Teach You in Business School." Prior to his work at Starbucks, Donald was chairman, president and CEO of Pathmark and president and manager of Safeway's 130-store Eastern division. Read more ...
IAS Newsletter Available on the Web
Read the latest IAS Newsletter and get up-to-date program news. Stories include a feature on the Bachelor of Science in Environmental Science and an update from '05 alumna T. Christine Drake. Read the newsletter now.
UW Bothell Annual Report Now Online
Read UW Bothell's 2007-08 Annual Report. Featuring a review of the past year at UW Bothell, the annual report was mailed to alumni, donors and friends earlier this month. Read it online ...
Michael Martino at MBA, BBTI Event
The MBA Programs and the Biotechnology and Biomedical Technology Institute last month presented Michael Martino, former president and chief executive officer of Sonus Pharmaceuticals Inc., for a lecture and discussion on "The Strategic Bio-Entrepreneur." The event also included a presentation on the new Leadership MBA in Bellevue and the Technology MBA in Bothell, both offered by UW Bothell. Applications are now being accepted for the autumn cohort.
---
Husky Night with the Silvertips
Join fellow Huskies for an exciting night of WHL hockey as the Everett Silvertips take on the Vancouver Giants. Wear your purple and gold, and of course your Silvertips gear, too! It's a full evening of family fun, presented by UW Bothell and the UW Alumni Association.
When: Sat. Feb. 28, 7 p.m. at Comcast Arena, Everett
Cost: $12 UWAA members, $14 non-members
Get more information and register online…
---
Save the Date

Visit the Alumni page on our Web site for details on these and other events.
---
Networking Tools
Need Help Looking for a Job? Want a Career Change? Have You Been Laid Off?
The UW Bothell Career Center now offers services to UW Bothell alumni. Job listings, workshops, events, and counseling are available. Check the Web site for a full listing of services, including fees. We look forward to helping you put your UW Bothell degree to work.
Upcoming Career Events
Spring Career Cafe, April 8: Practice and prepare for the Spring Career Fair. Resume reviews and mock interviews conducted by employers, as well as networking and refreshments. Pre-registration is required.
Spring Career Fair, April 21-22: More than 60 employers will be on campus during this two day career fair recruiting for internships and career opportunities.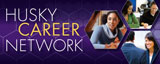 Husky Career Network
Finding a job isn't easy. That's where Husky Career Network comes in. Featuring more than 5,000 UW alums and friends worldwide who have volunteered to assist fellow Huskies with career exploration, Husky Career Network is the meeting ground for UW alums and students in need of career assistance and advice. For alumni looking to give back, it's a chance to get involved and help fellow Huskies. For alumni and students looking for career assistance and advice, it's an opportunity to explore the vast resources and wealth of knowledge provided by thousands of UW alums and friends.
Get started with Husky Career Network now.

Get Connected, Get Linked—In
Your Space & Face
Online social networking is a fast-growing form of communication and lifestyle. Whether you're interested in networking for business, career, or just to stay in touch with friends and alums, we've got you covered. Visit the Alumni page on our Web site for more information on how to access HuskyConnect and join the UW Bothell Alumni Facebook, LinkedIn and MySpace communities.